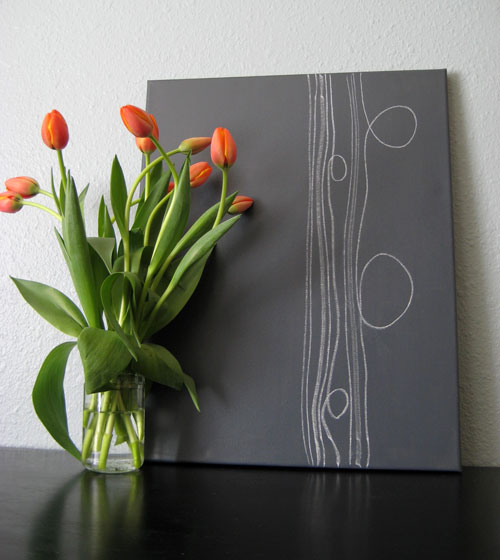 My friend, Naomi, and I like to have painting dates, but when she comes over I never know what to make. Then right as she's about to leave, inspiration strikes and she never sees the finished product. So, Na, what do you think?
This faux bois (French for "fake wood") art turned out to be as easy as second grade art, and as sophisticated as a page out of Elle Decor. I just painted a canvas with a coat of dark gray, then used a white chalk stick for the lines, and sprayed it with fixative so it wouldn't smudge.
Note: My sweet friend Kristina dropped by today and brought these orange tulips… just in time for me to take pics! Last time Kristina came, she brought homemade blood orange marmalade. And before that, it was homemade carmel and peppermint marshmallows for hot chocolate. If your mouth is watering, check out her foodie blog… Girl Gone Grits. I sure can pick 'em!