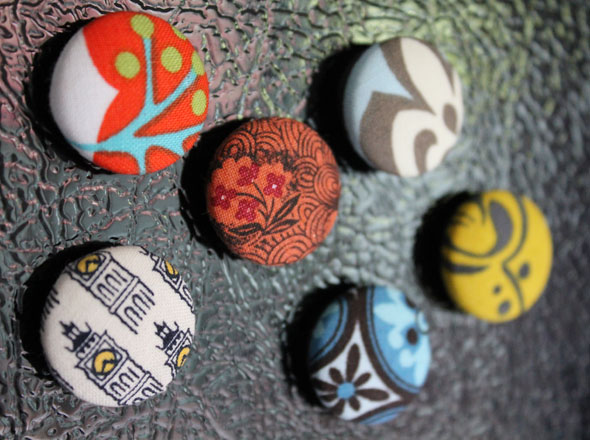 You know what I think is a great idea for souvenirs of your travels? Magnets. Easy to fit in a suitcase, and easy to remember where you got them. Too bad I keep buying ceramic magnets that break when they fall off the fridge. Oh well, my travels aren't forgotten.
But my fridge was therefore lacking in magnets.
I went to a "Make-It Monday" party months ago, hosted by the lovely Robie Dodson of So Sew Something!, and we made covered buttons. Okay. I have to tell you I wasn't convinced about the covered buttons. What am I going to do with covered buttons? Give them to grandma? But my skepticism was short-lived. I LOVE COVERED BUTTONS! My favorite use for them — magnets. In fact, I went out and bought supplies to make more.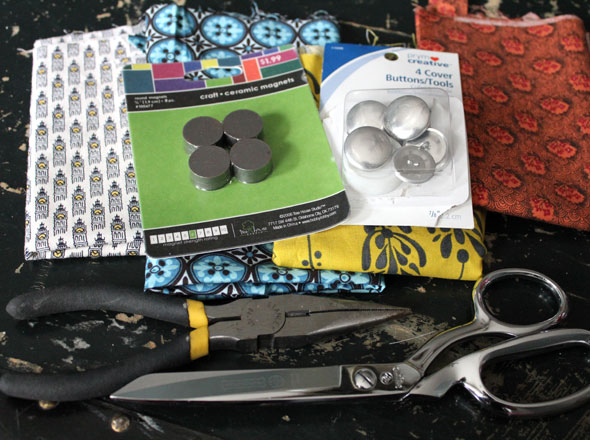 You can buy a covered button kit for, oh, $2 in almost any craft section (bought mine at Walmart), along with a pack of magnets (Hobby Lobby) for $2.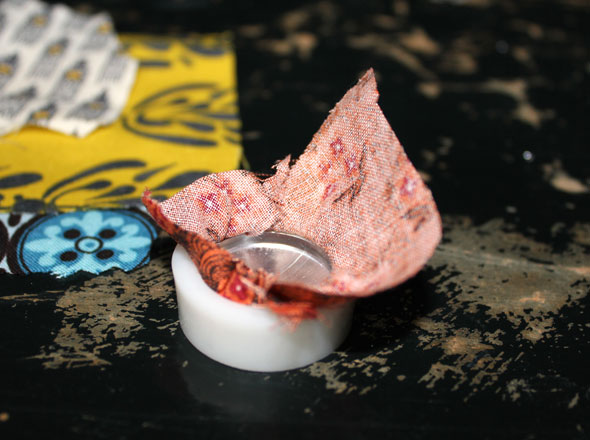 First, decide what tiny little part of the fabric design you want to show up on your button (this is the fun part… one print can look totally different depending on how you position it), and cut a square twice the size of your button.
Hold the button on the fabric, and push it into the handy-dandy rubber button maker from your kit.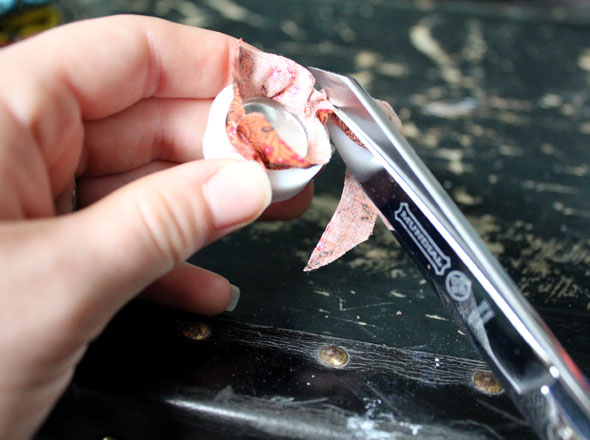 Trim off extra fabric so there's not too much bulk for the back to fit on. I left about 1/4″.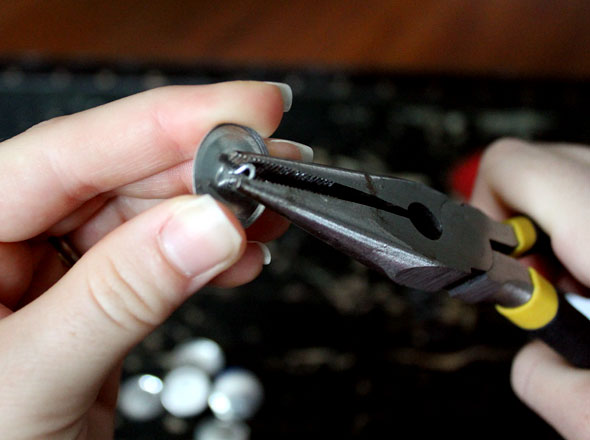 Use pliers to pull the pin off the button back (you need a flat surface to glue the magnet to). I find that if you pinch the pin sideways between like pliers, like so, it's easier to pry off.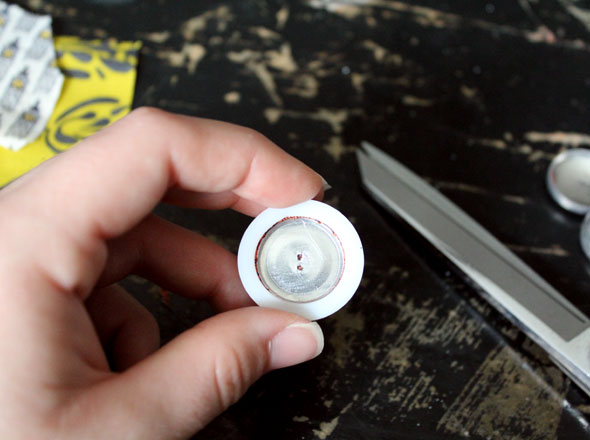 Fold the fabric into the center and pop the back on until it clicks in place. (I put a dab of hot glue first to make sure the back stays put.)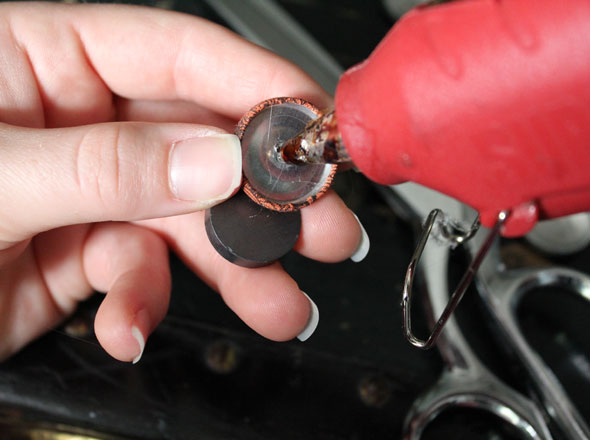 Hot-glue the magnet on.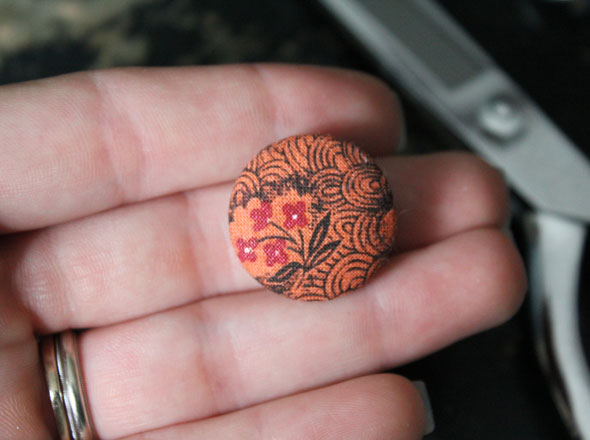 Finished! Cute, no?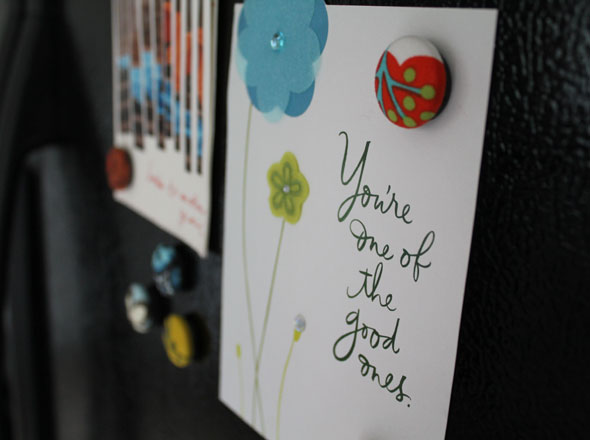 Use your adorable magnets to put your birthday card from your grandma on the fridge. Right next to the one your friend Sara made for you.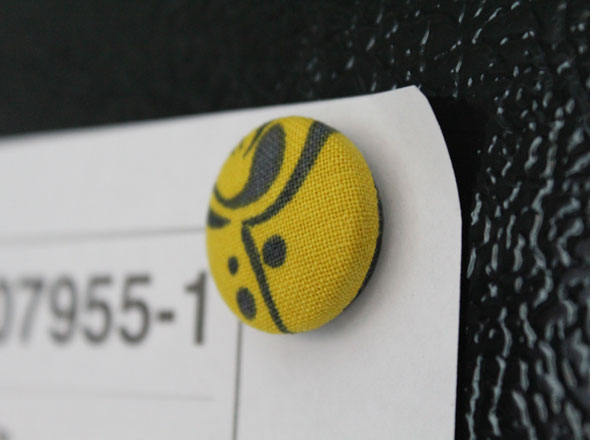 And to stick the Groupon that's about to expire on the fridge so you don't forget to redeem it.
Then go crazy. You can put covered buttons on rings, bobby pins, barrettes, push-pins, paper clips. Or, of course, use them as real buttons to add some flair to a cardi, a DIY-headboard, or that re-upholstery project that requires matching buttons for tufting. I love tufting.