Amy's note: Welcome to Sara Vahle, HNWN's first guest blogger! Sara is an awesome graphic designer, and will be popping by at least once a month to share some crafty goodness from her life.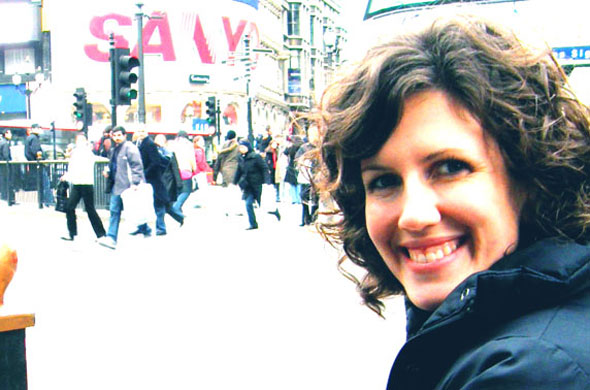 But before I hand her the mic, I have to tell you a few things I love about Sara:
She likes dresses. The day I saw Sara's closet was a happy day. Until I saw Sara's closet, I thought I had to stock mine with plenty of slacks. Because, well, because people wear pants. But I like dresses! And skirts! So why can't a girl mostly wear dresses? She can.
She gives Thanks. Quite literally. Instead of just saying it, Sara will give you something to show her gratitude. At least, she did once for me and I thought it was awesome. (She made one of these crocheted plant cozies for me when I put in a good word for her on a job.)
She's zesty. As in, zest for life. As in, plays volleyball on Saturday mornings, rides her 80's bike around town, moved to Afghanistan for two years to teach kids art, and has probably 150 good friends (which is apparently the max).
Now, without further adieu, a beautiful creation by Sara.
How to Create an Eco-Friendly Centerpiece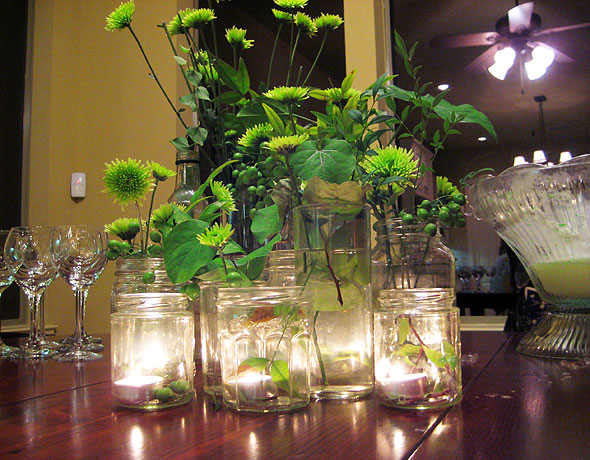 My task: Create a table decoration for an eco-friendly baby shower for my good friend, Stacy. It turns out decorating in an environmentally conscious way can save some major cashola and it can be tres cuter than cheesy crepe paper and balloons! I found a great post on Design*Sponge that inspired me to create a cluster of little vases using mostly the foliage from my garden. Mine took on a little different form, but I was really pleased with the results.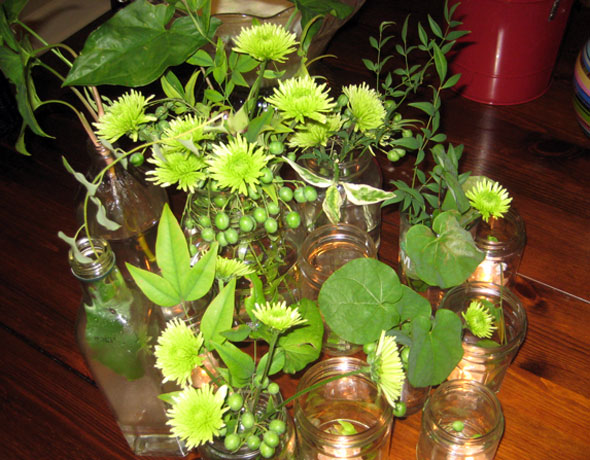 Here's the method to my madness:
I grabbed all of the mason and jelly jars from our kitchen (that normally serve as water glasses).
I then washed out a few juice jars and an olive oil container. As long as it was glass, I saved it! I wiped a little goo-gone on the label glue to make it extra clear as well.
I spent about 6 bucks at Central Market on flowers (one bouquet of small mums and one stem of green berries). I made about 7 arrangements with the flowers, berries and vines from my yard.
I added a few tealight candles and greenery to the bottom of jelly jars and placed them amongst the vases to create a subtle glow.
… And viola! an earth-friendly, very green, and eye-catching table arrangement!