Well, the title pretty much sums it up. Go to thrift stores. Buy vases. Put them on a table.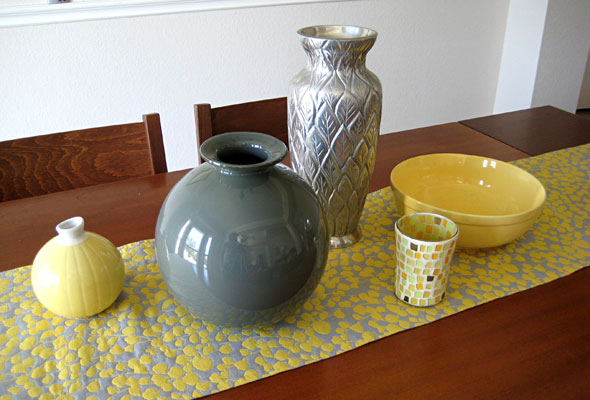 Okay, there's a tiny bit more to it. It's helpful, and more fun, if you pick a color scheme to work around. Yellow and gray are a personal fave. Of course, seeing it again long after the "install" for my client, I'd love if that yellow bowl were full of gray feather balls. And I'd have kept my eyes peeled for another small gray vase to round out the collection. But you get the idea. Total spent: about four Starbucks coffees ($15.16… and that includes tax).
I also whipped up the table runner using complicated, professional tools: scissors, fusible tape, and an iron. It was hard work.
*      *      *      *      *      *      *      *      *      *      *      *      *      *      *      *      *      *      *      *      *      *      *
45 minutes later
I thought the feather ball reference up there deserved a link, but evidently decorative feather balls are hard to come by. (Tho easy to make, I'm quite sure. I smell a craft day.)
But 45 (very productive) minutes of searching for decorative feather balls was enough courting for me to declare my new love: decorative balls. So here, for my pleasure more than yours, probably, is a decorative ball round-up (with links to sources below).