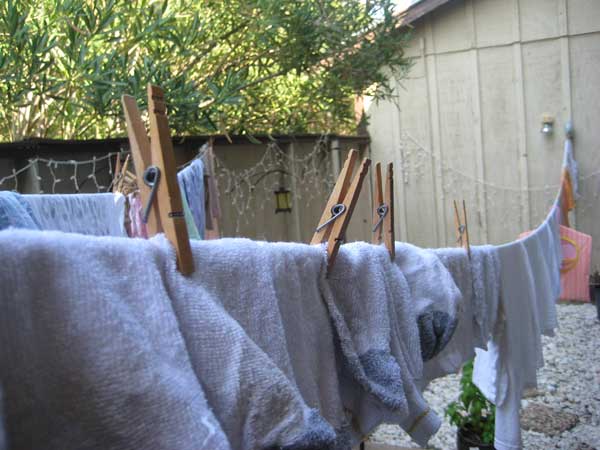 We have a perfectly-sized patio that I don't spend enough time on. So aside from enjoying one of our little-used spaces more often, here are the reasons I like taking the time to line-dry (and some drawbacks, to be fair).
PROs
Time to myself. I'm guilty of always being in a hurry, even when I'm not. Hanging laundry gives me time to slow down and think. Plus, I find it to be a bit nostalgic, you know? The way things used to be.
Fresh smell. Line-dried sheets are one of life's little pleasures. My mom says they smell like sunshine. I had to try to it figure out what she meant. And it's lovely.
Energy savings. My first job was at a video store, and my co-workers used to make fun of me for making scrap paper out of the out-dated video sleeves. Though line-drying probably only saves me $25-50/year, it just makes me feel responsible. And my old co-workers can… well, keep using their dryers.
CONs
Wrinkles. I do own an iron, but I try use it as little as possible. So I will toss shirts and linens in the dryer just to tumble out the wrinkles.
Stiffness. Jeans and towels are less than Downy-soft from line-drying, so I also toss them in the dryer when they're still a bit damp.
Fading. The sun can do a number on jeans pretty quick, so I turn anything I don't want to fade inside-out, and try not to leave things outside too long.
As for the technicalities, I just used hooks and a rope I dug out of our camping supplies. Then my mom gave me a retractable clothes line, which I love because it doesn't get dirty in the elements, and there's no threat of decapitation from not seeing it as you walk across the patio. If you don't have a lot of outdoor space, use a collapsable rack and maybe one of these hilarious little numbers. "What about when it rains?" you ask. Just dry inside. Your house will smell like clean laundry!