There are good bugs (ladybugs are my favorite) and bad bugs (it's a rather long list). Ants and aphids top my list of unwelcome critters in my house and garden.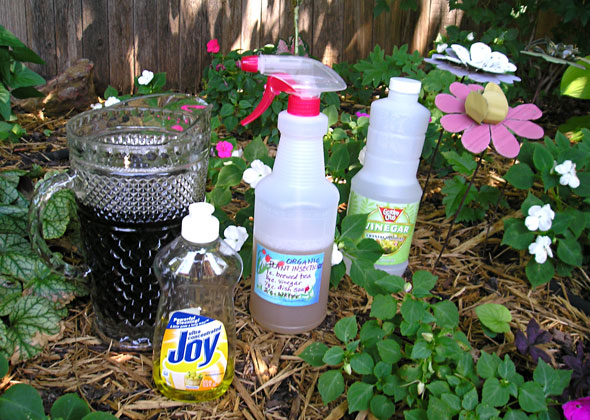 Several years ago a friend gave me a recipe for Organic Plant Insecticide that really works. The ingredients are common household items, and are nontoxic to people and pets, besides being environmentally safe.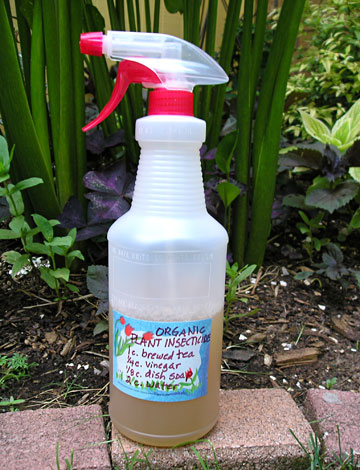 For this photo I decided my recycled Glass Plus bottle (with label permanently afixed) was not acceptable for HNWN so I invested $1 in a new spray bottle at Dollar General. Whether you use an empty bottle or get a new one, just be sure it holds about 32 ounces. I used a decorative label to write the recipe in permanent marker and stuck it on the bottle.
Organic Plant Insecticide
1 32 oz. spray bottle
1 c. brewed tea
1/4 c. distilled vinegar
1/8 c. dish detergent (not the degreaser kind)
2 c. water
Pour all into bottle. Screw on sprayer top and shake to mix.
Spray on plant and soil. After a few minutes spray plant foliage with water.
Great on rose bushes and safe on vegetables.
(I don't think this concoction will work on fire ants. Those beasts need the really toxic stuff like Ambro.)
{Note from Amy: Mom, can you also share a recipe for some magic spray that keeps plants alive through drought and neglect? Mine would love you for it.}