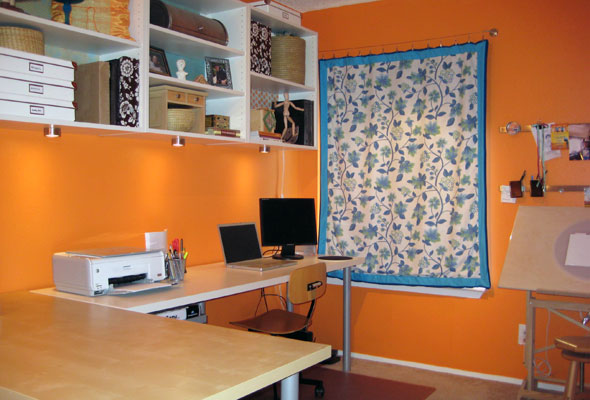 Orange I glad for this room!
We claimed our third bedroom as our office/studio/craft room. It's a relatively small room, but I capitalized on the space by adding a table that juts out from the wall, creating an 'L' for my hubby to compute, and for me to spread out and craft.
We painted it a bright (should've seen the first try… it was practically neon), energetic orange, and hung Ikea kitchen cabinets without the doors. We have plenty of room for storage, computing, drawing, sewing, crafting, and anything else we have a hankerin' to do. All for just $300 at Ikea!
On the shelves, I used craft paper for wall-papered, a bread-box for holding craft supplies, and a 50-cent glass from a garage sale for a coin-collector.