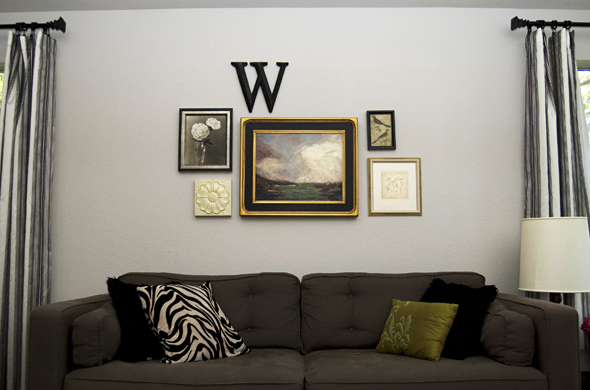 If you thought wall arrangements were out of date (sheepish hand raise on my part), then stand corrected.
My uber-stylish friend, Kim, not only has an open-invite to live in my closet so she can pick my outfit every day, but her home often serves as inspiration for me (like her light switch candy).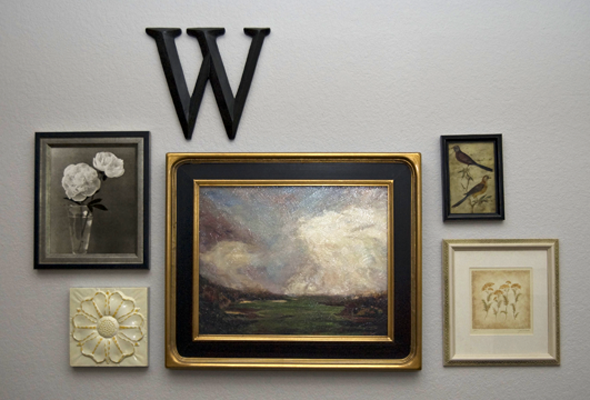 So for this installment of Kim's Cool House, we look at the arrangement above her sofa. I have to say, I wouldn't think to pick any of these pieces, but every time I see this I have some serious decor envy. What I find so brilliant about it is the variety: unmatched frames, prints mixed with structural elements (like the "W" she spray-painted black, and the 3-D flower), and an unexpected layout (a grid pattern with some funk to it).
I also think this is a great example of how it's worth it to splurge on one thing, then fill in with bargain finds. The stunning painting in the middle was $300 at an eclectic gift shop that benefits a local hospital. Everything else was $10-20 at TJ Maxx.
So, Kim, I'm thinking to ensure you don't grow tired of this, you should swap it out every now and then. And I know just the place to store it. I'll take good care of it all… I promise.