Moving overseas has been the perfect experiment in living minimally. The husband and I have aspired to it for years, but never quite made the plunge. But moving, we packed six suitcases with as many clothes and electronics as we could fit for two years, and packed the rest of our stuff into a storage unit to deal with later. See? Perfect.
And save for one dreamy trip to Ikea for kitchenware and linens, I haven't done much shopping since we arrived.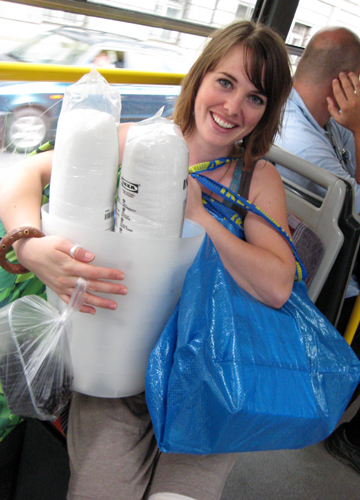 Shortly after realizing I'd have to get all my loot home on public transit, but still smiling. Totally worth bumping into all those old ladies on the tram.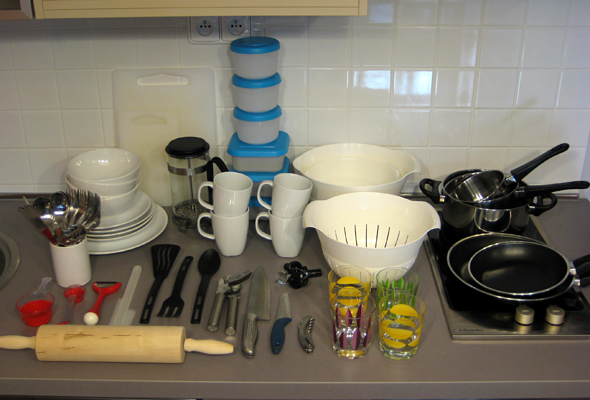 So for the past three months, we've been living on exactly four bowls, four mugs, four plates, four glasses, three pots, two pans…. you get the idea. I wondered if this would feel like living without, and lead to periodic and unpredictable cases of The Grumps, but I have to say, it's really plenty! There've only been two times I've had to made-due: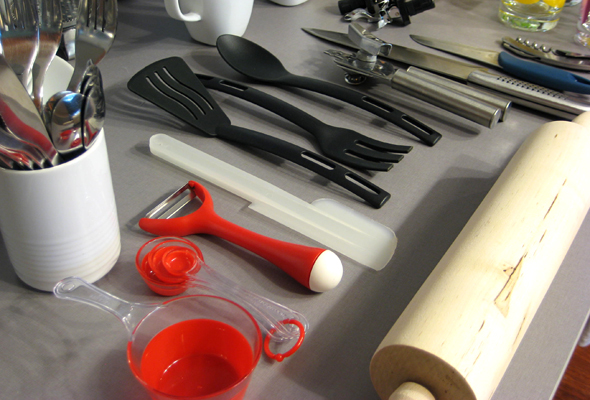 After a mighty acidic batch of pancakes where I realized my 1/2 cup Ikea measuring cup was in fact a decilitre. What the heck is a decilitre? But trusty Tablespoon helped me figure out that our drinking glasses are exactly 1 c. Bring on the non burn-your-mouth-off-from-too-much-baking-soda pancakes!
When I wanted to bake veggies and chicken, but separately. I just created little pans out of foil, and put them on the same cookie sheet (which conveniently came with the oven). I have a feeling this won't work for banana bread, though. I'll have to break down and buy a loaf pan.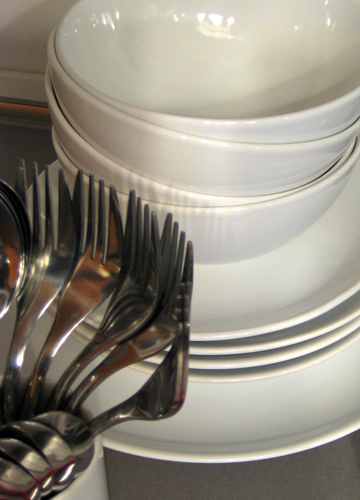 Probably my favorite advantage to a minimalist kitchen is the natural combatant against the Tower 'O Dirty Dishes Syndrome. Just simple math, really — can't dirty a tenth plate to leave by the sink if you only have four. And with so few dishes, it's faster just to hand wash. I'll admit, I do seem to do dishes multiple times a day, but I kind of like it. Good thinking time.
The only instance I know I'll need more dishes is when we throw a big party (which is absolutely on my list… it's almost Christmas, you know?), but I'll just go disposable/recyclable, so as to keep our kitchen simple.
Before our big move, we purged more ruthlessly than ever before, but I imagine when we unpack our giant 3-D Tetris cube someday (as seen right here), I don't think we'll have any trouble trimming out even more extras and hand-me-downs.