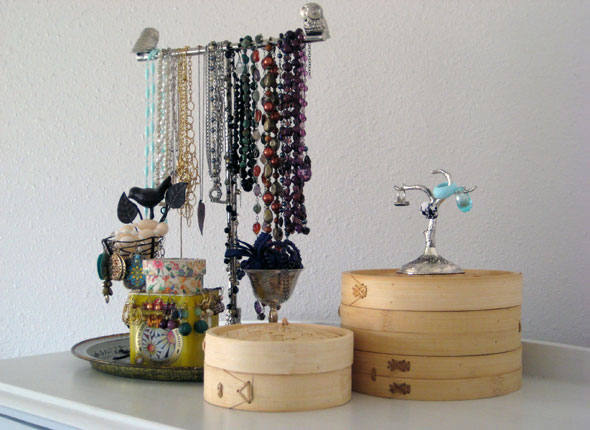 For years I've had this beautiful, espresso-colored wooden jewelry box. And for years it has stood out like a sore thumb in my bright white bedroom. It's lovely, but very traditional, and I've been wanting something more fun.
So I go where I often go to "shop" for organizing inspiration: the kitchen. I rounded up a steamer basket I've never used (came free with a wok), a sweet little tea tin I saved because I hoped to find a use for it someday, and a silver goblet from a hand-me-down collection I use at Christmas.
Then, during my thrift store adventures this week, I happened across the most adorable necklace tree from Anthropologie for $7! The next day I found a little silver ring tree for $1, and to top it all off, a larger, two-tiered steamer basket for $5!
I use the steamer baskets for bracelets and lesser-worn earrings. The cute bird's nest stand from my best friend is perfect for all my favorite earrings, and favorite bracelet set. And I discovered I could hang the rest of my earrings from the lip of the tea tin. Now the question is whether this is actually practical. If all my earrings fall off when I'm in a hurry, I'll have to count this stroke of genius as a flop.
What about you? Have any unconventional jewelry storage ideas?