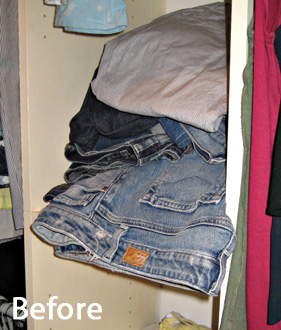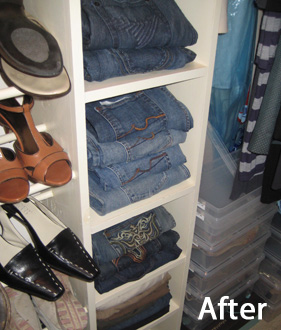 I detailed the perils of Puking Closet Syndrome in an earlier post, and it's high time I start writing prescriptions for the cure. In Cures for PCS I'll offer one-step-at-a-time solutions for common hang-ups in the closet.
"Do these jeans make my butt look big?"
Rods are usually such valuable real estate, you don't want to crowd them with things that don't need to be hung, like jeans, which don't wrinkle. So stack 'em!
Fold in quarters (half, then half again) with pockets facing out for at-a-glance identification.
If you don't have cubes or cubbies in your closet, put something like this on the floor, or turn it sideways and put it on a shelf.
Stack 'em 3-4 pair high, no more, or you'll have the leaning tower of jeans.
"For the next stop on our tour…"
The best perk of an organized closet is that putting away laundry will become almost cathartic because everything has its place. An unexpected perk: you'll want to show off your closet when you're showing your friends around, rather than threatening them with uncertain death if they peek.