(My birthday was a week ago. It was on a Saturday, and my husband threw me a surprise chocolate party (!!!). So Friday night, Sara and my friend Marjorie were commissioned to get me out of the house. So after wine and tapas, we headed back to Sara's house for ice cream and lounging in her cozy room. I kept noticing places she'd used crates to organize. You may remember, I love crates. And Sara has BIG crates! Crate envy. Behold, Sara's crates. ~Amy)
When it comes to storage and shelving, my go-to option is always a crate. I love the look of the natural, rough wood, and they're much easier than a bookshelf to move around should you want to rearrange your room. I've also been able to find them for uber cheap or free. Can't beat that!
Here's how I use my crates:
You might remember these from my last post. These planter boxes serve as a shelf for my printer and lamp, while organizing my art and office supplies. I bought them for $12 at a thrift store. They're a bit sturdier than a wine box, so I was okay with paying a bit more for them.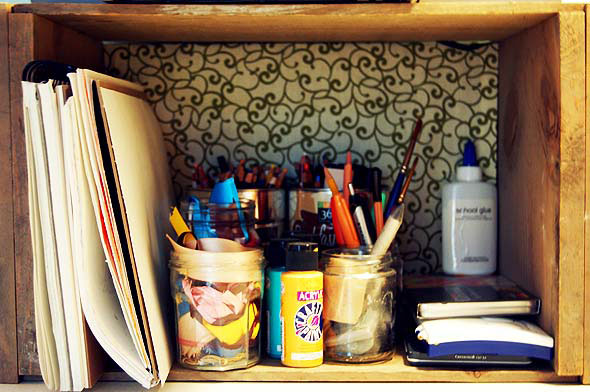 With these, I decided I wanted a little color on the backsplash of the boxes, so I went to Hobby Lobby and found this scrap fabric for $1. I eyed the back of the boxes for measurement (making sure they had about 2 inches extra fabric on the width) and cut out the pieces of fabric. Since the pieces were a bit big, I folded the sides on the length to fit the box.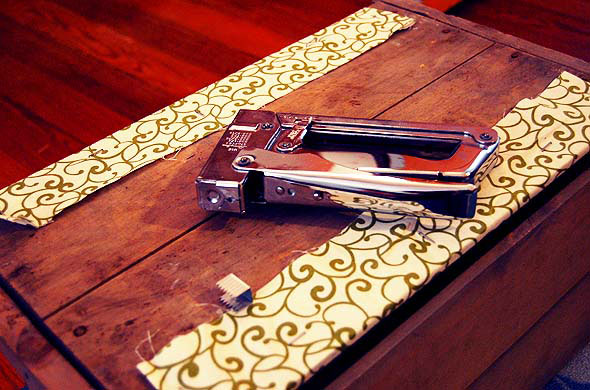 I turned the crate over and used a staple gun to secure the fabric to the back. Now I've got a bit of color and interest on my desk that also serves a very functional purpose.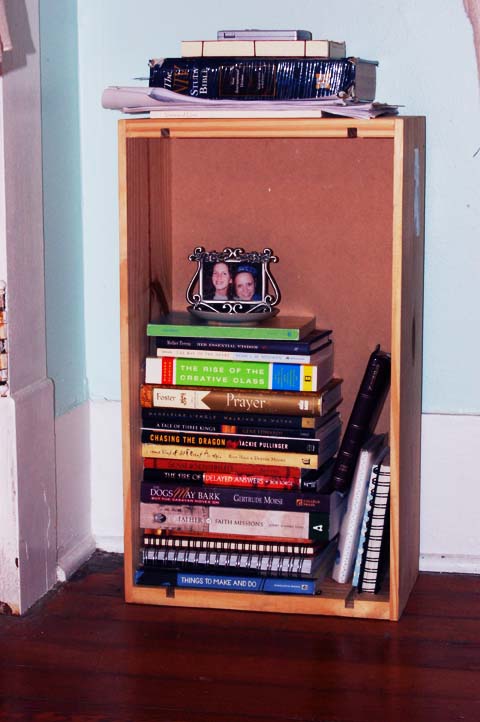 My wine crate was acquired at my local grocery store. I just asked the gentleman in the wine department if they had any extra wine crates and he just gave this to me. Right now, it serves as my bookshelf (more like book holder, really) for my small book collection.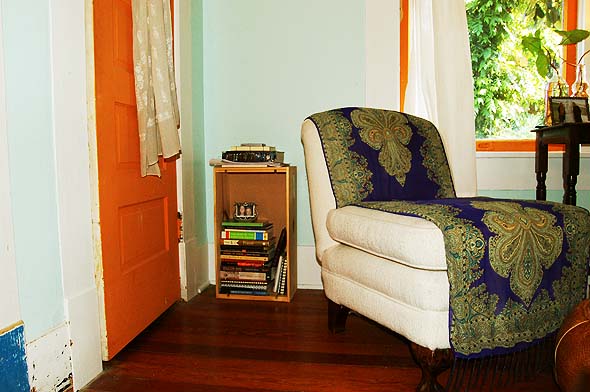 I also use it for a quick-access end table next to my chair for the books/materials I'm currently reading, because I don't like to clutter up my end table next to my bed (I'm weird like that). The pretty vineyard logo isn't visible at the moment, but that's the beauty of this crate – I know I'll find another use for it at some point where the sides might be displayed a bit more.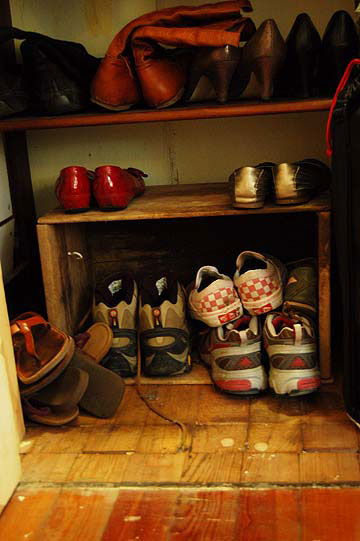 This next crate does not have a very glorious function at the moment, but my shoes would be much more disorganized without it. I had some space below the bottom shelf in my closet, so I decided it would be a great place to make an extra shelf for my shoes. This crate was a gift of sorts from a lady who ran a wonderful mid century décor/furniture store around the corner from my house in Austin. They were closing down (unfortunately) and she saw me eyeing it, so she offered it to me. Super nice! It was actually mounted to the wall in the store and used as a wall shelf. Another brilliant crate use! But, for now, it is a helpful organization tool in my closet!