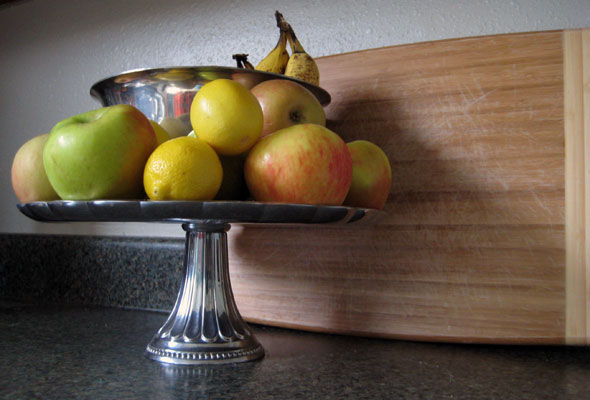 The fruit bowl conundrum: you can't keep the apples with the bananas because they don't get along (apples make the bananas go bad faster). But fruit is such an easy way to add interest to your table or countertop, and I like to keep it out for easy grab-age, so what to do?
I'd considered 2- or 3-tier hanging baskets, but at a whopping 5'2″, that sounded more like yoga than useful storage.
The hubby and I got this great silver cake stand as a wedding gift and used it once. (At our wedding!) I also had this pretty silver hand-me-down bowl from my mom, so I figured this was a great way to enjoy serving ware that normally just stayed in storage, and create harmony between the apples and bananas.
Thank you. Thank you very much.*Takes a bow*