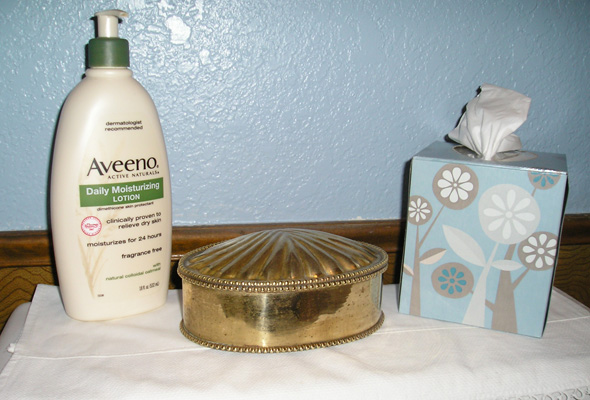 Here we come to the busiest time of the year – at least in my life it is 'cause I make it chaotic!!! Maybe we all need to remember to have a pampering moment – as many times a day as you can manage!
Years ago I began using powder after bathing; it's soothing, helps absorb moisture (no more sticky pits!), and you can get different scents, so it's aromatherapy.
I keep my powder in a dish on the toilet tank lid. Over the years, I've gone through a number of containers. First, I had a cheap plastic powder jar. Then I found a glass fruit compote, but the lid didn't meet well with the tile floor one day. Now I have this treasure I found on one of my antique shopping outings. My lidded brass seashell goes perfectly with the framed sand dunes picture I've had for years.