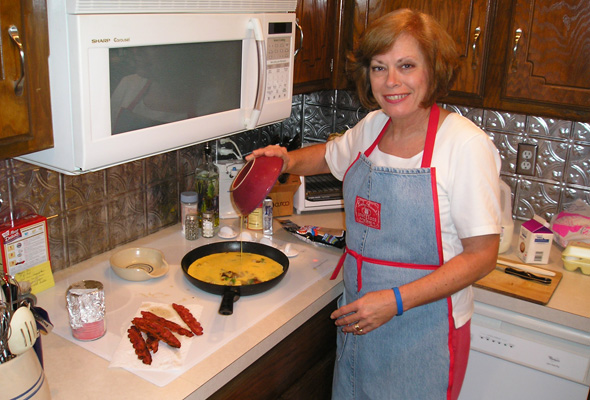 I confess! I've kept a box of old jeans because I thought I'd recycle them into a denim throw and matching pillow. Well, after years of ignoring them, I recently found an alternate project: the beloved Lucky Jeans I've outgrown have become aprons!
Aprons are in vogue again, imagine that. And so is recycling. One pair of jeans will make 2 aprons – one to keep and one to share. Lucky me and Lucky Amy.
I trimmed mine in red bias tape, but you can personalize your apron by painting a trim, adding ric-rac, lace, or "Bedazzling" your own design. Like the frayed look? Forget the bias tape around the edge, sew a line of stitching 1/2″ from raw edge, then wash the apron a few times.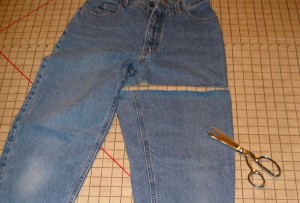 Cut off legs by cutting straight across jeans, just below crotch.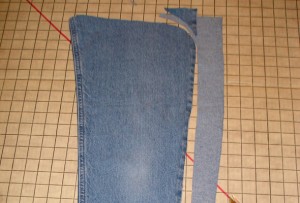 Cut open the plain outside seam (not the welp, or inseam). Fold length-wise along welp seam, which will run down the middle of the apron.
Trim extra fabric from jeans back to match front. Curve the top outside corners of the leg (which will become the bottom of the apron). Open pant leg and lay flat. If necessary, trim across the top of the leg to be sure the middle of apron (which will be at the bottom) is straight.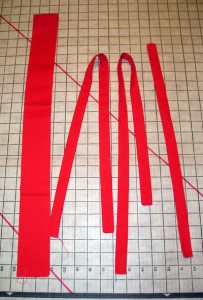 For Neck Strap and Ties, cut 2 1/2 x 16" strip for Neck Strap, and two 2 1/2" x 33" strips for Ties.
Sew a 1/4" seam on one end along length of each strip. Turn right side out and press along seam.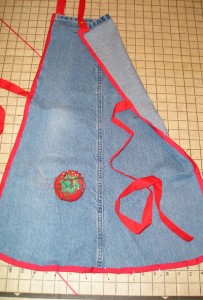 Fold both ends of Neck Strap under 1⁄4" and press. Fold open-end of Ties under 1⁄4" and press (these will be tucked under bias tape). Fold end of bias tape under at least 1⁄4" and begin pinning around raw edge of apron to the other side of the finished edge. About 10 to 12" from top of apron, on the back side, pin folded edge of Ties under bias tape.
Sew bias tape to apron (I use a large zig-zag or decorative stitch). Hand stitch then glue Neck Strap to back side of apron near corner edge.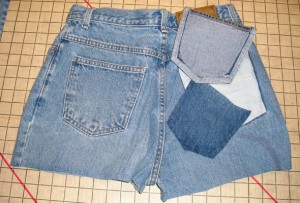 Optional Pocket: Cut off pocket from jeans remnant, and trim edges from inside the pocket for a clean pocket. Position on apron either below Tie or in the upper middle of apron breast. Glue edges, pressing down with your finger as you go.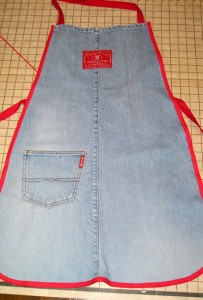 Voila! You're done! Now cut off that other leg and make another apron.