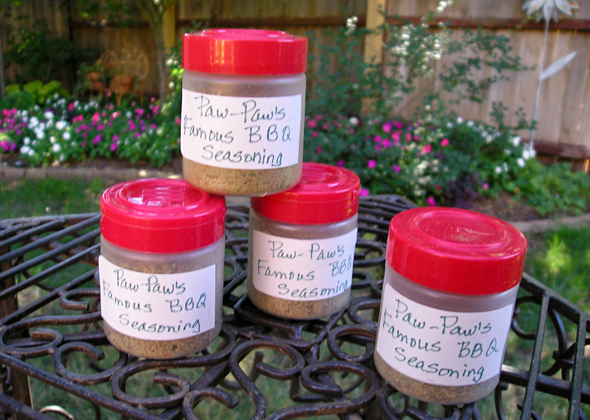 My kids' special name for my dad is Paw Paw. He's a great cook and an even better grill master. Many years ago he concocted a seasoning mix that absolutley everyone loves. It can be used on chicken, pork, beef and fish. I have even used it on vegetables. And it's not just for grilling — I use it when baking chicken or pork chops. I like that I can make it low sodium, and I tend to use it generously (that means I season heavily!).
Paw-Paw's Famous BBQ Seasoning
2 parts BBQ Seasoning (try 1/4 cup)
1 part of the following: (try 2 Tbls. each)
Garlic Powder
Onion Powder
Ground Celery Seed
Poultry Seasoning
Ground Marjoram
Ground Thyme
Salt & Pepper to taste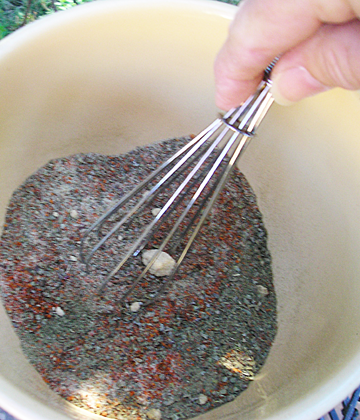 Mix everything up together.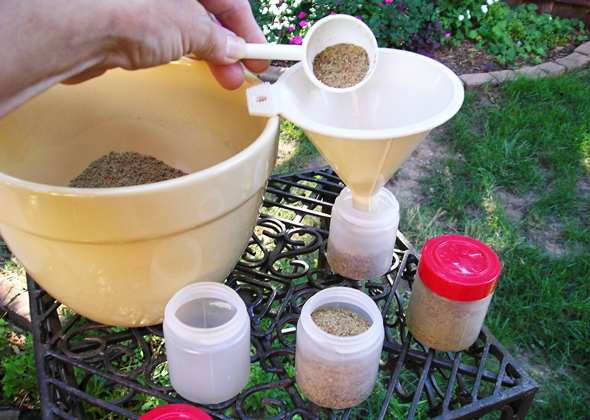 Then I use a funnel to fill my recycled seasoning containers. I've also bought little glass shakers (from Bed Bath & Beyond or The Container Store). I've given it as office Christmas gifts, birthday gifts, thank you gifts, and just because gifts. I've even been asked for refills from a recipient!
{Note from Amy: Paw-Paw is only half the grandparent name fun. My grandmother's name is Hazel, so we call her Hay-Hay. Hay-Hay and Paw-Paw. We like it.:)}