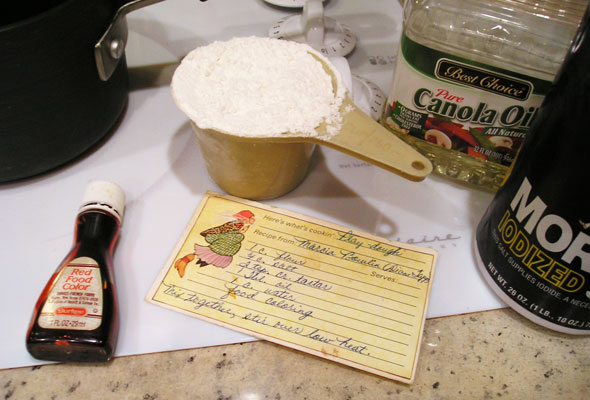 Many years ago (like, over 30) a neighbor friend gave me a recipe for homemade play dough. While the kids were growing up I made countless batches of the stuff. Blue, green, yellow, pink, purple, orange, white and sometimes a really icky color like brownish.
In one of our houses the large laundry room was in the basement and it had lots of room for a wooden dinette table. It became the play dough table. Besides tubs of dough, we kept a shoebox full of cookie cutters and gadgets and a wooden rolling pin. Amy and her little friends would spend a lot of time making all sorts of girlie things. The boys, not being crafters by nature, usually made rolls and sometimes brought in the plastic army "guys" and the plastic cowboys and indian "guys." Guys – that's what Amy's younger brother called them.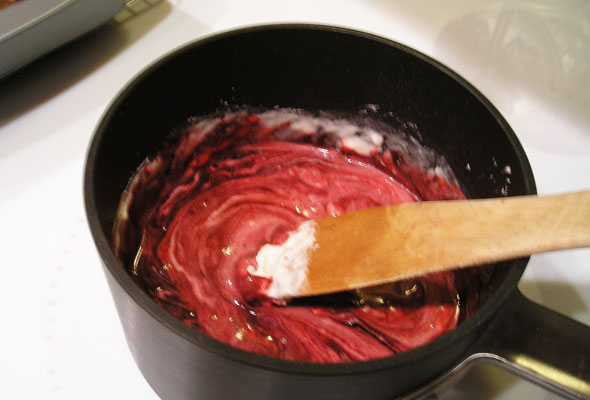 In these pictures I got a little carried away with the red food coloring, but it sure is a pretty color! But I have a good excuse! I was in the middle of making dinner (lasagne and chocolate cake if you must know) when a couple came over to show us her new motorcyle. Isn't that distraction enough?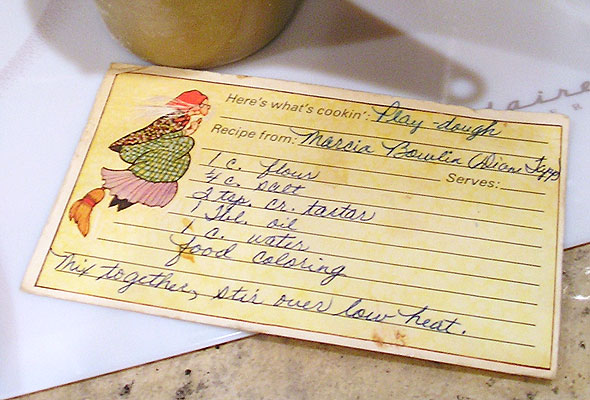 I still have that old recipe card even tho I don't have kids around who want to play with play dough…maybe some day. Maybe the house next door will be sold to a family and I can have kids come over for a little play dough time.
Play Dough
1 c. all purpose flour
1/4 c. salt
2 tsp. cream of tartar
1 Tbl. oil
food coloring
Mix together in a small saucepan, stir over low heat until it thickens and comes together in a ball. Cool a few minutes before playing! Store in airtight container (my favorite are icing tubs).
{Note from Amy: Oooh! I love this color! Raspberry, I'd call it. This would've been a hit on my pretend cooking shows… my favorite play dough game. So Mum, whatcha gonna do with this batch?}