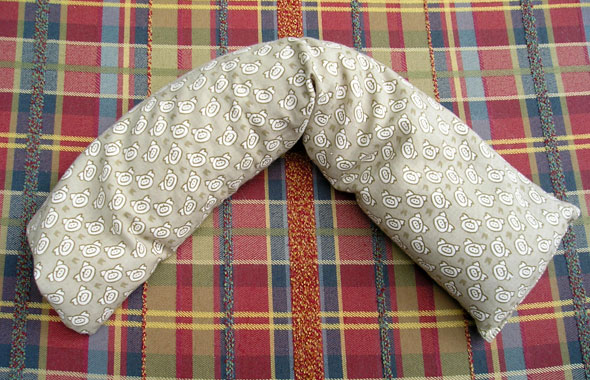 OK. So in my last post I told you about painting the brick wall. Here's the rest of the story: all that priming and painting really did a number on the muscles in my shoulders. So I pulled out my old sock filled with rice, microwaved it for 2 minutes and draped it across my shoulders. It's a homemade hot pack that infuses warm, moist heat into sore muscles.
Now, the old sock, while very servicable, is down right ugly.
Here's a quick and easy project! I cut two 18×6 inch pieces of fabric and sewed 3 sides, leaving an end open for filling. (Isn't the fabric I dug out of my stash cute? Piggies!) Then I filled it 3/4's full with uncooked rice and some whole cloves that had been lurking in the back of my spice cabinet, then stitched up the opening.
Make your bag any size or shape you want, just remember to fill it only about 3/4 fill. Heck, you can even use an 'orphaned' men's tube sock (by orphaned I mean the sock who's mate didn't survive the washer and you've got the poor orphan in the rag box).
You can use just rice, but it does omit a funky little odor, hence using something like cloves, dried whole rosemary, or dried lavender. I've got it on my shoulders right now and it feels and smells so good. Sometimes I even heat my rice bag up and take it to bed – no electric cord to worry about.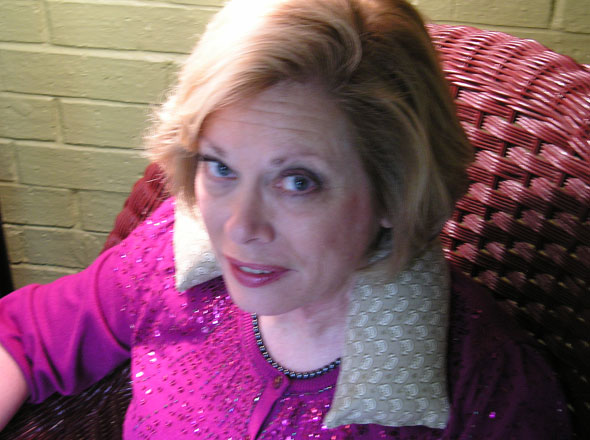 Note from Amy: Mom just texted saying this would be a great idea for a Mother's Day gift… Toss in some handmade lotion, bath salts, and a book or magazine. I love it! 'Cause if there's one thing mums need, it's some R&R. But does it count when your mom comes up with the gift you give her… ??:)