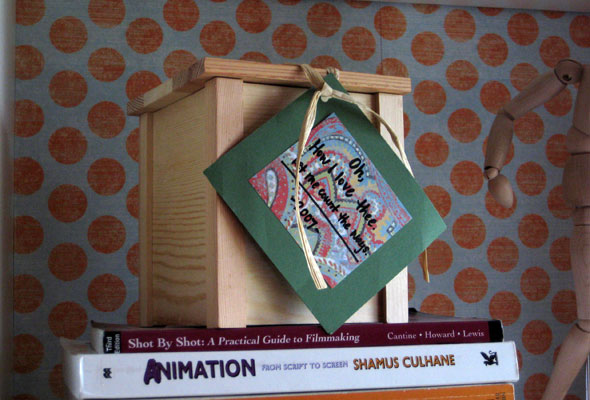 True story: yesterday I was listening to mushy love stories on the radio, and it made me think of when my husband, Dennis, and I met. So I texted him.
First, a little back story. We sort of met over email, and it was a couple months before we met in person. When we did, it was very brief. Dennis pretty much said, "Hello, I'm Dennis," then turned on his heels and walked away. Later, I found out he didn't expect me to be so fetching, and was sceered right off!
So back to yesterday's text. Amy: "Member how u thought i was so pretty, u ran away? Then u married me?" Dennis, without missing a beat: "Yep. Everytime I see you."
Mm hm. I snagged a good one. I think my heart is still on the floor in the spray paint aisle at Walmart.
I've been dying to tell someone that story, so thanks for indulging me.:) Now on to the DIY!
I heard this idea on the radio a few years back (there seems to be a theme here), and made this "365 Reasons I Love You" box as a gift. Word of warning: No matter how much you love someone, it takes a loooong time to think of 365 reasons. (I brainstormed on little pieces of notebook paper for about a month.) Plus, 365 squares of card stock stack up about 8 inches high. So I would actually recommend doing a weekly set, with 52 reasons.
I got the wooden box for $3 at a craft store and liked it just the way it was, so just tied a label card to the knob for decoration. I hand-wrote the messages with an acid-free pen, and decorated the cards with craft paper.
You could also punch a hole in the corners and bind the cards with a loose binder ring. Or just toss them all in a fun box (cigar boxes are the coolest) and let your pookie pull one out at random every week. Or, for the truly committed, make a game of it and hide one around the house once a week! Oh man. That's a good one. Is it tacky to tell your husband what you want for Valentine's Day?