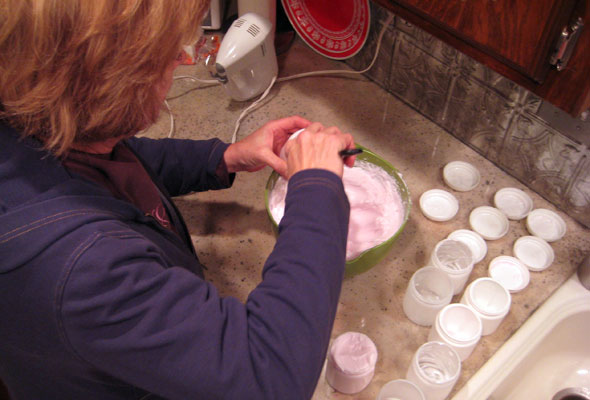 Winter is in full force, and along with it comes dry skin.
When I was a kid I used to watch my grandma apply vaseline on her hands and feet at bedtime and pull on cotton socks and gloves to sleep in. As a preteen I thought that was pretty weird.
Now as an adult, I use lotion year 'round, especially on my legs. During the cold months I apply all over – head to big toes. I've found that a lot of commerical lotions have too much alcohol, and the more I use the drier my skin gets.
Last year my mom gave me a simple recipe for handmade lotion which I've found is economical (I buy my ingredients at the dollar store) and soothing. I've made it using a couple of different scents, so explore your options. At first I used recycled soft butter tubs until I collected enough vitamin E jars. I've also given it as "Thank you" gifts — I just bought travel-size pots and adorned the tops with stickers or silk flowers.
Now nearly half a century later, I wish I had Grandma around to learn more from her. Might I suggest you spend time with an older person whenever possible – they have many 'green' and economical DIY tips!!!
Dollar Store Lotion Recipe
2 15 oz. bottles of baby lotion, scent of your choice
4 8 oz. jars of vitamin E skin cream
1 14 oz. jar of petroleum jelly
Empty all into a large mixing bowl. Using electric mixer, beat together well.
(Note from Amy: My mom's really picky about her lotion, so if she says this is good, it's good. I don't like the baby powder scent, but there are usually a couple others to choose from. And what a bargain! This makes about 75 oz for $10!  I'm not sure if it's a blessing or a curse, but my bargain-obsession definitely seems to be inherited.)