Many, many years ago my mom made a skirt out of my grandfather's ties. I always admired that skirt, so about a dozen years ago Mom gave me her stash of ties. And when my dad retired from the corporate world I got several of his ties. Then I cleaned out my husband's closet and claimed some of his old ones.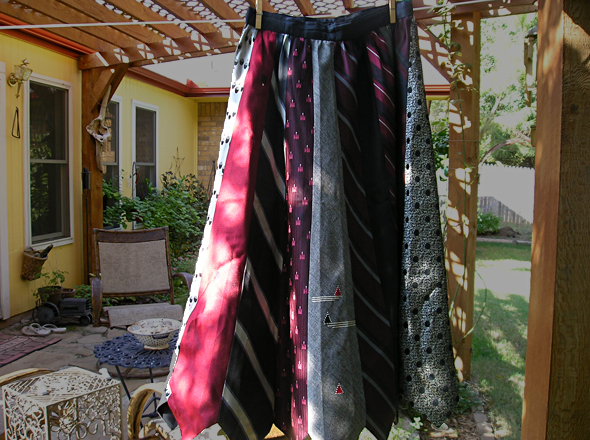 I have made my own necktie skirt, but my obession didn't stop there!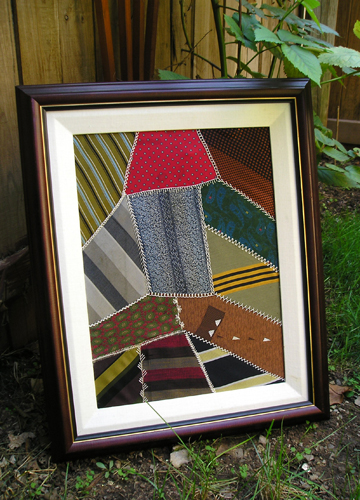 I have made pillow tops out of ties to give as gifts, a wall hanging out of men's ties for a church fundraiser auction, and a couple of framed pieces (one for Amy and one for me).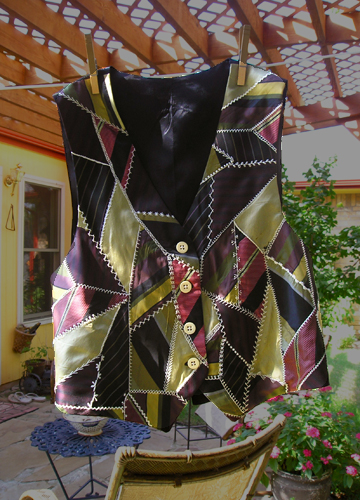 I even made a vest out of the scraps. Sorry, I don't have a pattern, I just create as I go.
I still have a bunch of ties and have decided to make a Christmas tree skirt out of them this year.
So if you are wanting to dabble in the fiber arts using men's neckties, don't be shy about asking for freebies from the male population. I've seen ties at garage and estate sales and in thrift shops. Go ahead – Tie one on!
{I have always loved my mom's tie art. Namely because she hand-sews each seam with a different decorative stitch, and they're so amazing! I love to study them. My other favorite thing is that the wall hanging Mom gave me incorporates three generations of men in my family: my great-grandfather, grandfather, and Dad. What a cool piece of family history!}
{Added: And for your musical entertainment, my mom is as resourceful with ties as Joseph with his Little Overcoat!}