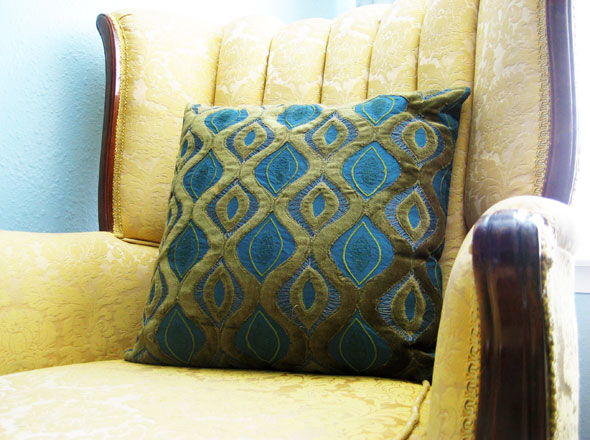 I seem to like peacocks. I was looking around my living room the other day as I was Wii Fitting (my favorite time to daydream about decor), and realized I sort of have a theme going… completely by accident.
When I was little, my favorite babysitter took me to the zoo and bought a feather for me. I kept that thing for years! I thought it was the coolest. Now I have a whole collection of feathers that I used as a spray tree-topper in my Christmas tree, and keep in my giant Ikea vase the rest of the year. I also have a peacock pillow I snagged at the Salvation army for a few bucks, a peacock-colored vase I found at Ross years ago, and of course, the peacock wreath a friend made for me.
I do believe it's possible to go over-board, so I think I'll try to lay off the peacocks purchases. But I rather like the ones that are dotting my living room!
Do you have anything you're drawn to that you realized has turned into a sort of collection?