Let's say you're renting and can't change much.
Or you want to do a total overhaul, but not just yet.
Or you're a broke young professional.
Or a broke old professional.
None of the above mean you have to live with a room you that makes you cringe like a sink full of dirty dishes that have been sitting for a week. (I'm just sure this is a perfect analogy.)
Here's how to tackle a one-day room makeover on a budget.
My friend Angela has an extra room that she's been less than excited about for the past few years. She was ready to do something about it, but no major projects. So she started with an impressive purge, getting rid of six trash bags worth of stuff.
Then, I got to help with the fun part! In one day, one trip to Ikea, and about $130, we transformed the room into one she couldn't wait to show off when her husband got home. And of course, he was impressed.
Here's how we did it.
Three "L's" to a quick, budget make-over
1. Layout / Function
Consider how the room is arranged now. Do you have good flow through all of it, or does the flow kind of get stuck somewhere? Or does it rush through in one path? (As Maxwell Gillingham-Ryan of Apartment Therapy fame says, it helps to think of "flow" in terms of water, and the eddies in a creek or river. How and where would water flow through your room?)
In a long room like Angela's, it's hard not to wind up with the bowling alley effect, where everything is pushed against the long walls. So we moved the desk to the end of the room, creating flow and purpose throughout the whole room, even at the end.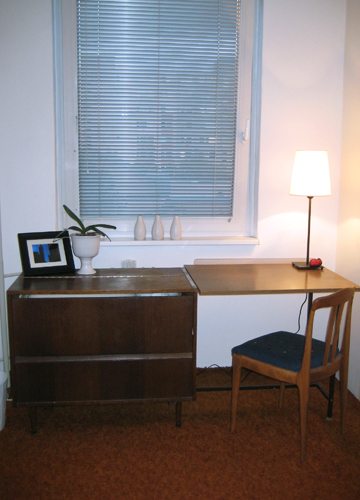 Also ask yourself how you want to use the room? Angela decided she wanted to move her jewelry-making from the kitchen and living room into this room. Again, a great reason to move the desk to the end so Angela has more light, and easy access to storage on the wall shelves.
2. Lighting
I'm an unabashed lamp-aholic. But rightly so, I say. There's no such thing as too much light! In fact, a room that only has a ceiling light has a limited mood and use. Whether for task lighting, or just to add warmth, table and standing lamps are easy ways to create an entirely new feel to a room.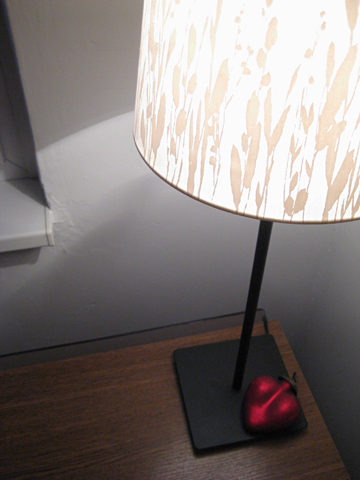 For Ang, we added a table lamp for her crafting. And I love the glass heart she had. Ees so cute, no?
3. Liveability
Now you want to like the room. So remove any clutter, or things you don't love, and add some character with things you do. Shop your house for things from other rooms. And buy a few new loves!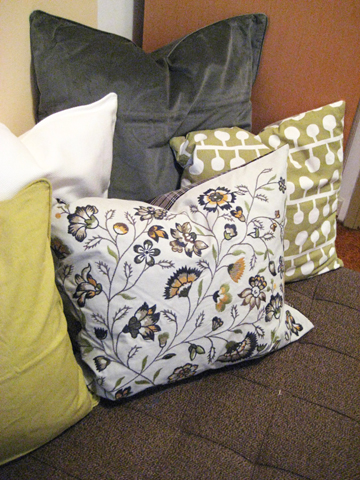 We spent a good part of the budget on these pillows.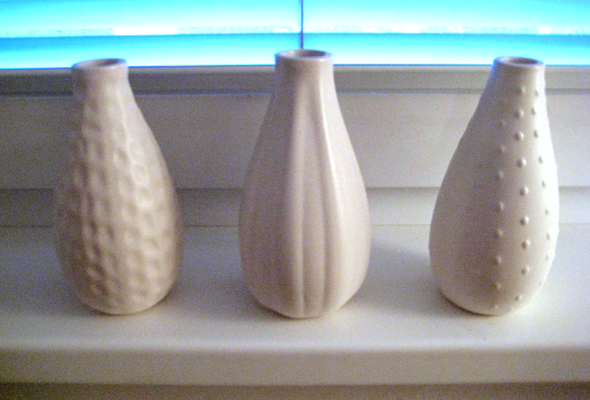 Plus a few little things like vases.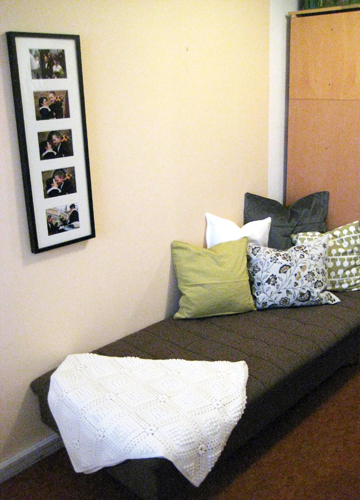 And Angela's idea… this sweet set of wedding photos that visually tells a story of Angela's big day.And just like that, you have a room that makes you stop and smile rather than curl your lip.