When my sweet landlord came over last week, I'd already found my way around a paint store. (It's amazing how much you can accomplish with a little Czech and a lot of hand gestures.) I was prepared to tell her I'd replace the furniture I couldn't resist painting, but when she gasped and pointed, I knew it wouldn't be necessary. It was a good gasp and point.
I think the Ikea stool that came with our flat (high cabinets) was meant to be turquoise.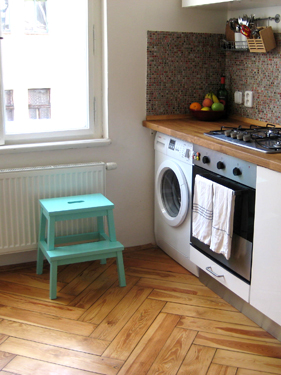 I love a room that has one unexpected pop of bold color.
Like a red chandelier in a room with no red. (Scroll all the way down.)
Or an orange door.
Or a turquoise stool.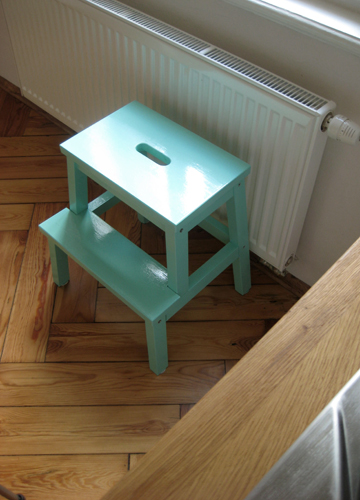 But the best part of painting this stool was not my landlord's reaction. It's that I discovered the magic of oil-based paint.
My hand gesturing at the paint store wasn't quite sufficient for a detailed conversation about my paint preferences. So I came home with my first can of oil-based paint because that's what the paint guy gave me. And I am in love. With the paint, not the guy.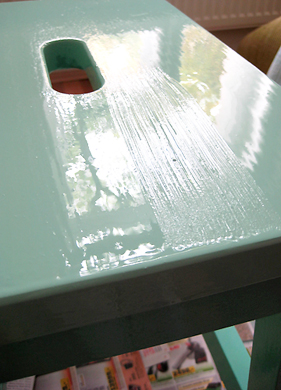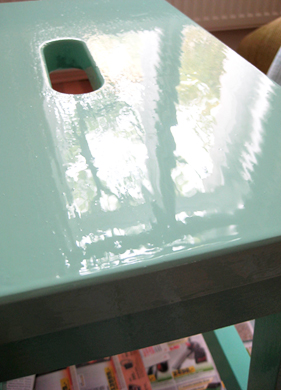 Look at how the paint melts into itself! I wanted high gloss with no paint strokes, and I couldn't be happier with the result. (Wish I'd known this when I painted my credenza with latex paint. No comparison.)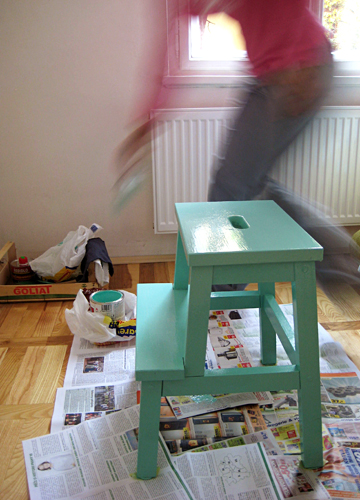 The one thing I did not fall in love with was the cleaning. Between applications of the same color, you can just wrap your brush in a plastic bag and stick it in the fridge. Easy. (Benita over at Chez Larsson has another great tip for how to save your brush between applications of the same color.) But trying to clean clean it… well, that was a ginormous pain. I spent 45 minutes over the sink with paint thinner, and the brush still isn't clean enough to use with another color. So a friend and painting pro, Tiffany, told me she and her artist husband just buy cheap brushes and toss them. I was hoping for that advice.
I thought it would be a nuisance having to use a stool any time I wanted to reach the second shelf. But with a stool this cute… well, okay, regardless of the paint, turns out it's just not that big of a pain. Tiny Kitchen Numero Dos is just as fun as Numero Uno. (Or Cislo Jeden in Czech.:) See? I know some.)