Problem: Two hours till a dinner party, and nothing to bring as a hostess gift.
Solution: Wait, rewind a sec.
When a friend invites me (us) for dinner, I like to bring at least a bottle of wine. If it's a particularly special occasion — maybe the first time at a new friend's house, or a bonafide dinner party — I like to bring a little something extra.
A couple weeks ago I'd (of course) waited until the last minute to come up with a hostess gift. So on my way home I bought a spring bulb from the flower stand, but the bright blue plastic it came in wasn't going to cut it. And I do love jars, so I had plenty in the cabinet.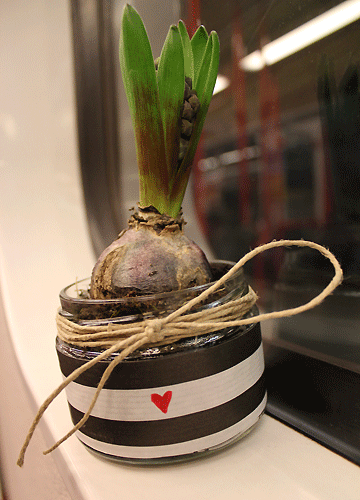 A bit of my favorite wrapping paper and twine,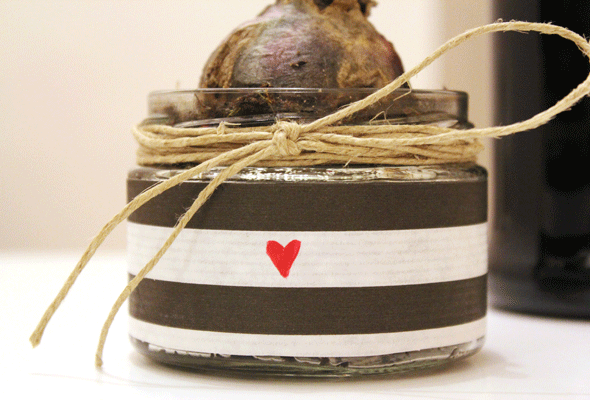 and a tiny painted heart (one of my husband's spontaneous ideas that I hate because it wasn't mine, and love because it was brilliant), and I had a sweet, simple hostess gift.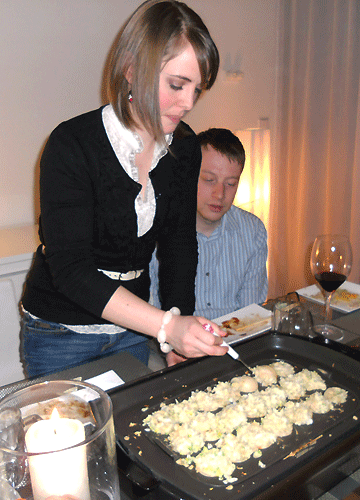 Good thing, because some serious Japanese deliciousness awaited us. Here I am wearing my concentrating face, learning to be a Takoyaki chef. Apparently my husband was wearing his, too, on my behalf. It worked. They were delicious.