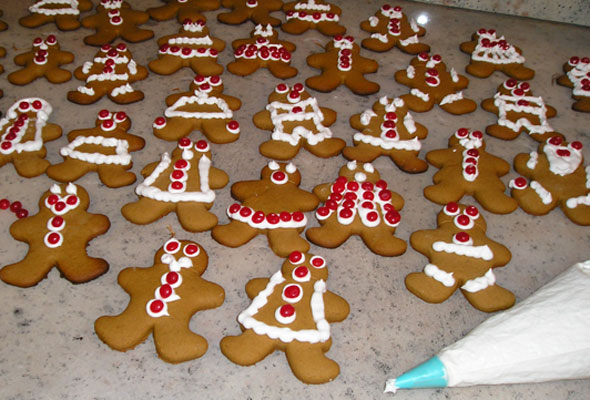 You can't catch me
Over 20 years ago, I started decorating my kitchen with gingerbread men for Christmas. It takes some time but it's a tradition for me!
Artificial evergreen garland with candied apple ornaments and red plaid ribbon serve as the perfect base for lots of Gingerbread people. When the kids were growing up, we'd make a Gingerbread House for the kitchen table centerpiece, too.
Sweet memories
One year, when Amy's husband, Dennis, was still the visiting boyfriend, they were decorating gingerbread. Dennis is very original and creative, and we ended up with all sorts of Gingerbread people: elves, Santa, a fireman, clown, and even a Ninja!
Then there was the year of the Kamikaze Gingerbread. I used to hang the gingerbread by gluing red curling ribbon on the back of each cookie with royal icing. Over time the icing dried out and cookies started randomly crashing to the floor. Our beagle, Beauregard, soon recognized that sound and would leap from his bed and race madly to the fallen treat to gobble it up. I have since learned to tie thin fishing line or brown thread like a noose around the neck of the cookie, then make a loop to hang it on the garland.
After the holidays are over, my husband cuts the thread off and eats them like biscotti. (I don't because I don't eat dried out, dusty things!)
So festive
I think your kitchen should be as festive as the living room during the holidays. I spend a lot of time in the kitchen cooking and baking, and people just seem to gather in that room, have you noticed?
Extra cookies are great for gift decorations or ornaments for the tree. Or, maybe instead of making gingerbread, you could use store-bought cookies, or adapt the idea using spritz cookies, or wrapped candy, or dried citrus rings!
Recipe download (pdf): Gingerbread Cookie Recipe
Note from Amy: See why my mom is awesome? She makes her own gingerbread dough, rolls it, uses cookie cutters… no shortcuts! These are the memories my childhood is made of. Not to brag, or anything.
I still love decorating gingerbread houses. In fact, my husband and I are about to host our third annual gingerbread construction party: Gingeropolis. Post and pics to come.