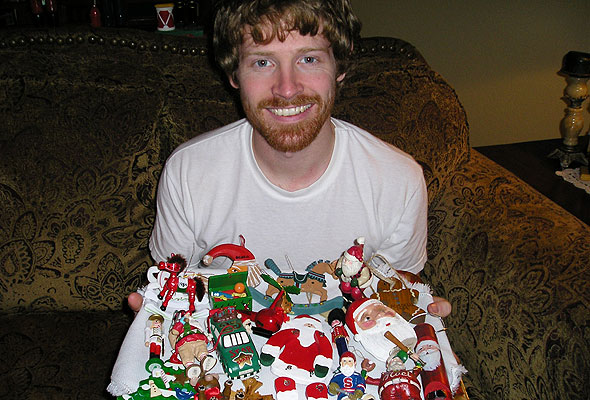 Sometimes I wonder if most people collect things. I'm pretty sure most people have some sort of Christmas collection. I've started quite a few. Many years ago I began giving my husband a nutcracker with the year written on it, now we have 22 that have taken over the living room! The collections I'm most proud of, though, are the ornaments I have done for our 3 kids over the years.
It all started when our first born received a brass teddy bear ornament with his name on it. So most of Matt's ornaments are brass or metal; Amy has a collection of angel ornaments; and Russell's are wooden. Each ornament has their name and the year on it. It's fun to see how their ages are reflected in their collection – from infancy to adulthood. When Amy got married I passed her collection to her, and when the boys set up their own households they will receive theirs.
Note from Amy: It was definitely fun picking an angel ornament every year, but the best part of this tradition was having a whole collection of ornaments when I got married! Otherwise, I wouldn't have been above covering our first  few Christmas trees with something "affordable" like gift wrap bows.
This year I've succumbed to the "themed" tree, and I keep waiting for "Where are your angels?" Um. Well…..