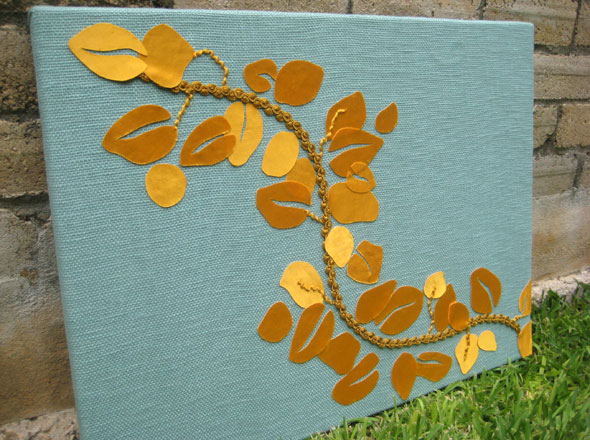 I'm a pretty decent artist when I'm trying to save a penny, which is always. Wait. That came out wrong… I just mean I'm always thrifty. Anyway, I created this fabric vine collage to hang above the bed in our first apartment, and it was easy enough, I made another in black and silver for a friend. The only tools you need are a staple gun, and a needle and thread.
I just wrapped a canvas with fabric by stapling it to the back of the frame. Then I pinned the stem of the vine in place and sewed it by hand, all the way through the canvas. For the leaves, I ironed interfacing to the back of my gold satin fabric for stiffness, cut out the shapes, and used spray adhesive to attach the leaves. Though, in my most recent fabric collage I used mod podge with better results (I'd recommend matte).
This would also make a great paper collage; try it with scrapbook or magazine paper, and you won't even need the needle and thread. Then show me what you make! Share pics on Flickr.
Instructions for download: Use the four "layout" pages as a grid to map the vine, and the two pages of leaves as patterns to cut them out.
Vine pattern download (pdf): Free Vine Collage Download