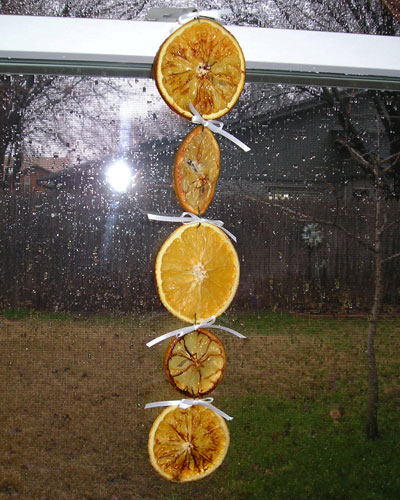 It has been a long, cold winter here in Oklahoma with lots of cloudy days, so I needed some sort of cheery craft. Sooo I decided to try an idea I saw in a newspaper insert: Dried Fruit.
I used an orange and a lemon. (How about a lime?!!!) All you have to do is:
Thinly slice the fruit and microwave slices on paper towels for 2 minutes.
Then transfer them onto a foil covered cookie sheet and bake in a 300-degree oven for an hour.
After they cool, attach slices with wire (I used florist wire). And since I didn't like the look of the wire, I dug into my satin ribbon stash and tied little bows onto the wire. I think you could use raffia or skinny paper ribbon…maybe glue something else you've got in your scrapbook supplies. Or maybe just wire together already dried fruit, apricots-apples-plums, and glue cranberries over the wire. I wonder how strong thread, dental floss or baby yarn would perform instead of wire?
Note from Amy: Turning food into craft supplies… now that's my pace! If only I'd inherited Mom's abilities and patience in the kitchen. Speaking of, what am I going to do for dinner? Ugh.