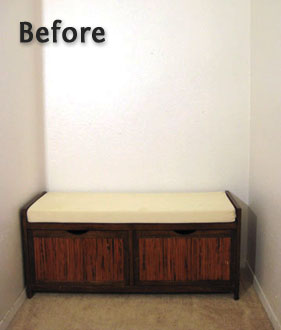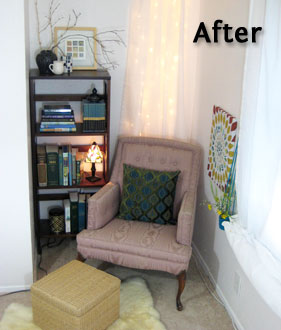 Interior Monologue: Ooh, if I moved that bookcase … used the chair from the living room …. the rattan storage cube as an ottoman … oh, I can't wait.
Drop everything. De-book the bookshelf; rummage through the vases; hoist chair over head and teeter up the stairs; leave a mess in my wake in at least four rooms. And never once ask for help. Because there's never time to wait for someone else when inspiration is leading the charge. This is how I decorate our home. One impulsive idea at a time. What's great about it is I'm shopping my own house, snagging something from here, yoinking something from there. And a nook that's been Bore City is suddenly one of my favorite spaces! For FREE.
The drawback to this method is that I also leave holes where I've plucked various items. Like the living room sitting area. Hope you don't plan to sit with company because now there's only one chair.
But I do think every house can find new life just by rearranging! And if the shoe fits, the pink chair belongs in the nook. That just means I need to hit craigslist for something that works better in the living room, anyway. Right?
So here's what I came up with from "free-arranging" last week. (A service I offer, in fact. Hire me.) I needed a "set" for my stash-busting collage video, so I threw this together, and, Hot dog! I like it!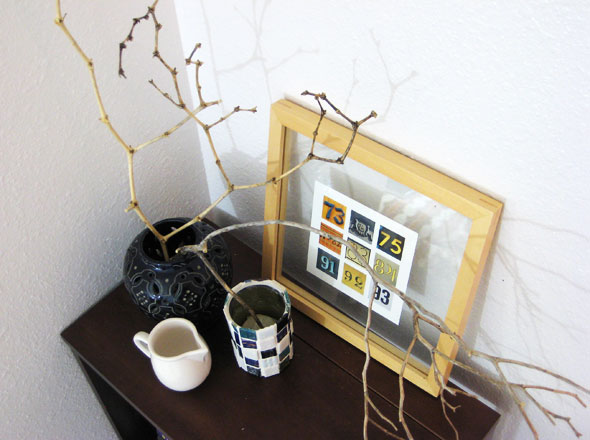 I dragged a bookcase from the junk closet (holding stuff I do actually like, just don't know where to put), pulled a chair and pillow from the living room (effectively leaving aforementioned holes), gathered some tchotchkes and beach twigs for une petite vignette (twigs were one of my daily gifts from the ocean during our winter trip!), and tossed the Ikea sheepskin and thrift store storage cube on the floor.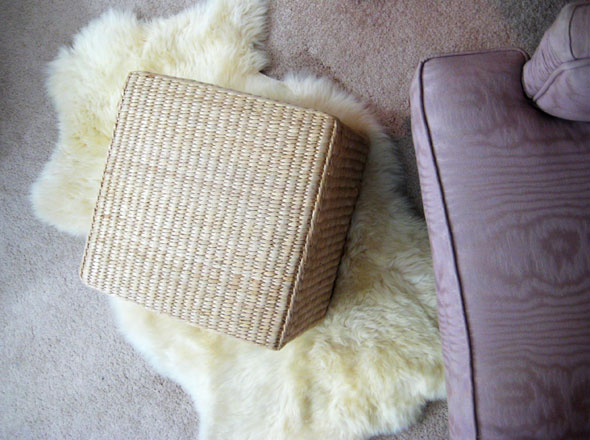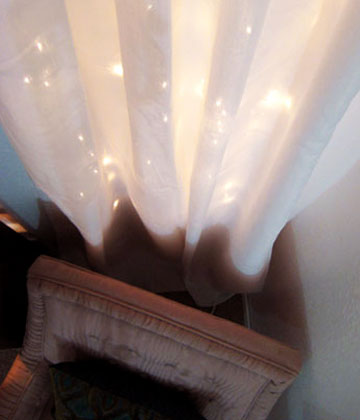 I wanted some texture on the wall, and pronto. So I hung a white curtain from a tension rod (no drill necessary), and a strand of Christmas lights behind that (with thumb tacks – also no drill). E. Z. And you can imagine the lovely glow at night.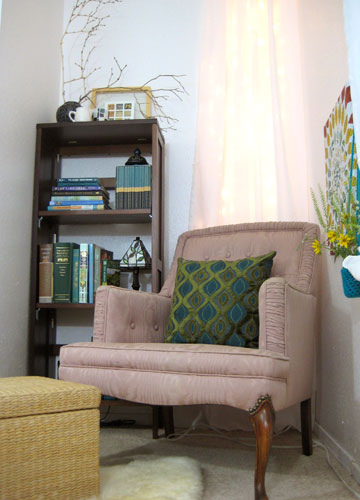 Now I'm thinking we may have to play musical bedrooms so I can gaze upon this nook. What do you think, honey?