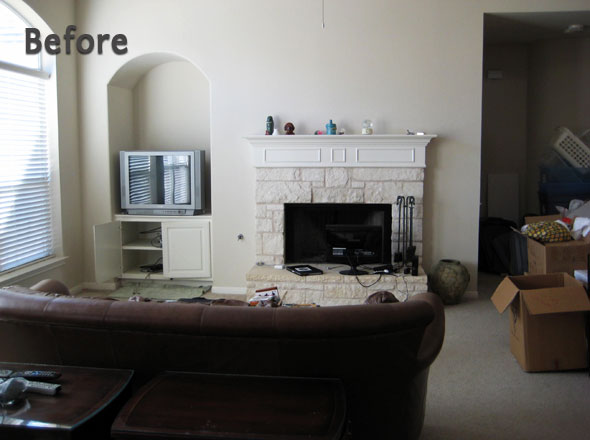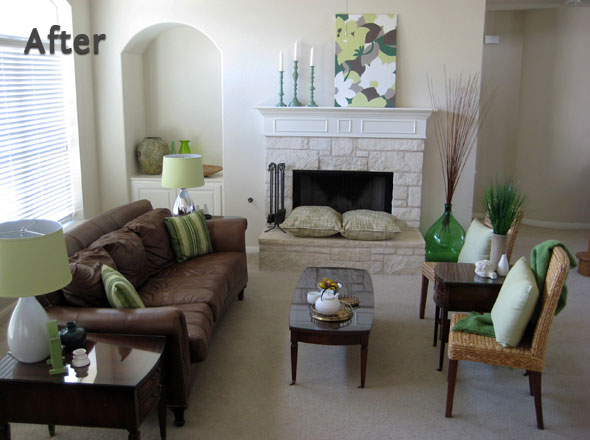 My friend Gail has a big, beautiful, empty home, so she called me in to decorate.
I was determined to go as far as possible with her budget, so I literally hit every thrift store in town I know (Reason #271 I love Austin: plenty of thrift stores), and kept a close eye on Craigslist.
The result: a bright, inviting, airy living space for $150.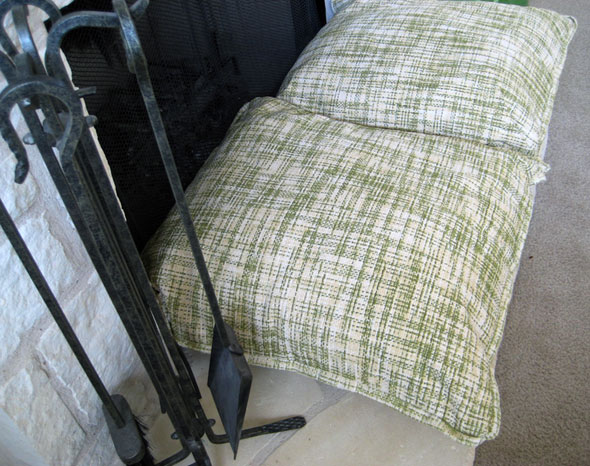 My design plan for the living room was born when I found this pair of giant green and yellow tweed pillows at the Salvation Army for $2.50/ea! I knew they'd make great sitting pillows on the hearth (when there's no roaring fire). From there, I gathered different tones of green as I found them, with white accents.
Gail had a great leather sofa, three end tables, and a coffee table that I used as my building blocks for the room.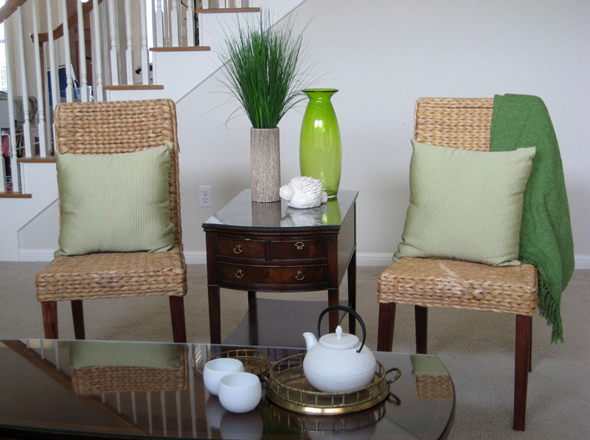 There were a few "must's" the room needed, including more seating which I added with these banana leaf chairs (Craigslist, $40). Their condition isn't perfect, but I spruced them up with some pillows ($6, Goodwill), a bright throw ($7, Ikea), and some fun vases (grass vase: $5, Craigslist).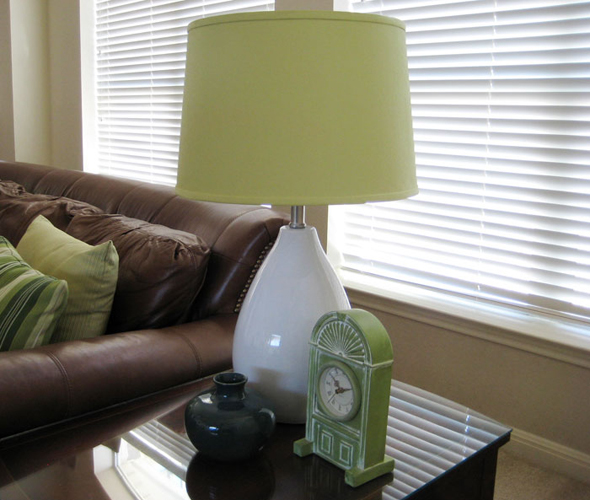 The other "must" was more lighting. I found coordinating table lamps for a steal (white: Goodwill, $4; silver: Craigslist, $10), and two bargain white drum shades that I painted green.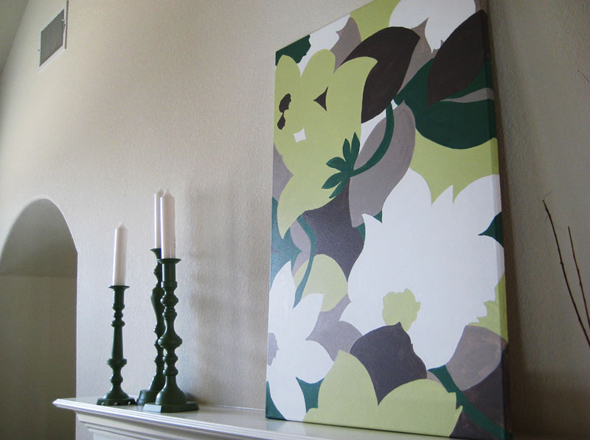 On top of my committed bargain-hunting, I saved money with a couple DIY projects.
The mantel was begging for some fun, and I knew I wanted some bold graphic art. But the closest I found to what I was looking for was an ottoman at Target. Can't put an ottoman on the mantel. So I used the fabric as inspiration to paint a canvas. J'adore!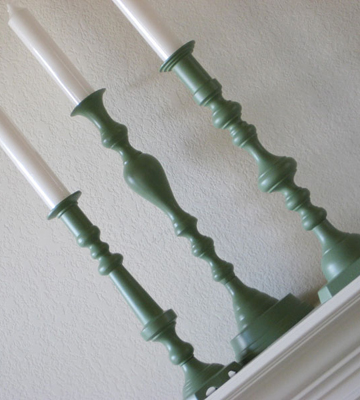 The brass candlesticks ($6, Salvation Army) just needed a coat of primer and spray paint to become a perfect fit in the room.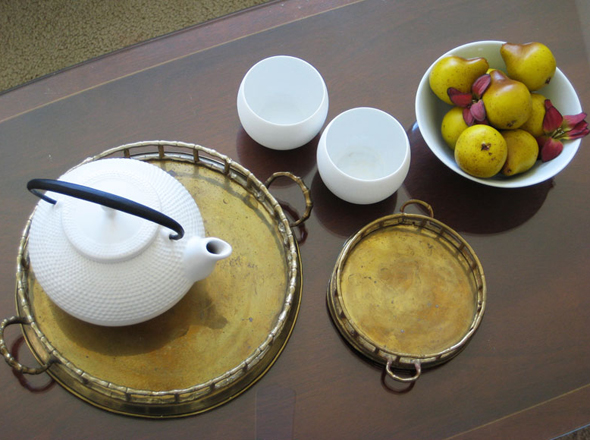 Plus, I shopped Gail's house for a few of the finishing touches, like most of this coffee table setting (pair of gold trays: $7, Savers).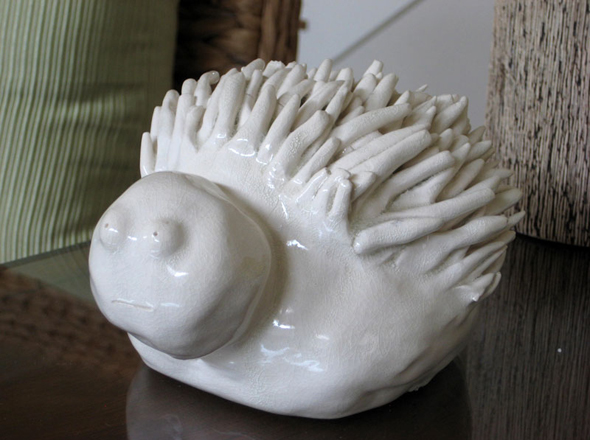 And my favorite… the ceramic porcupine Gail's son made when he was a tike.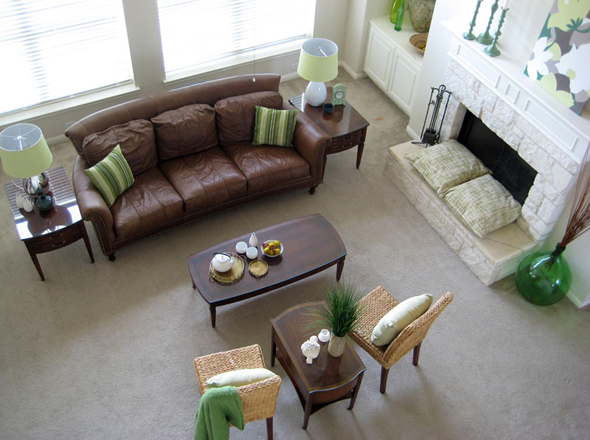 I'm happy to report that Gail is thrilled with her new room. I rather love it, too!