Painting the living room brick wall bolstered my confidence…subtitled "So You Think You're a Decorator." With determination fortified, I headed for the aforementioned bathroom. My next 3 posts will focus on some of my many hours in that little room.
The front bathroom has needed updating in the worst way. Last fall I had the sink vanity and floor done by a company called Granicrete. Good start, but that was only the beginning!
In my opinion every room should have a clock, and especially the bathroom. I needed a new wall clock for my newly redone bathroom. Found one I liked for $6.99 at Kirkland's, but the side wasn't flush with the wall. This just would not do because it's on the side wall and was noticable.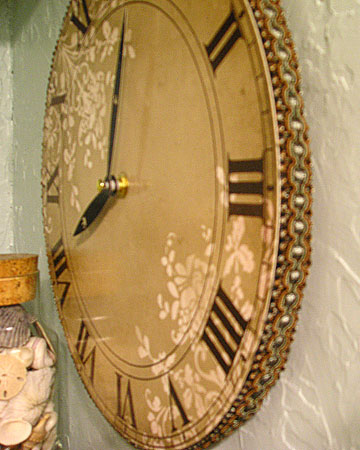 So I bought some trim at a fabric store and simply hot-glued it on to the edge! Since the top of the clock is not as visible as the bottom I started and ended the trim at the top.
Note from Amy: I'm jealous of Mom's coral. The beach is her favorite place, so our bathrooms always had remnants of our trips scattered about, and this one is no exception. You'll see.