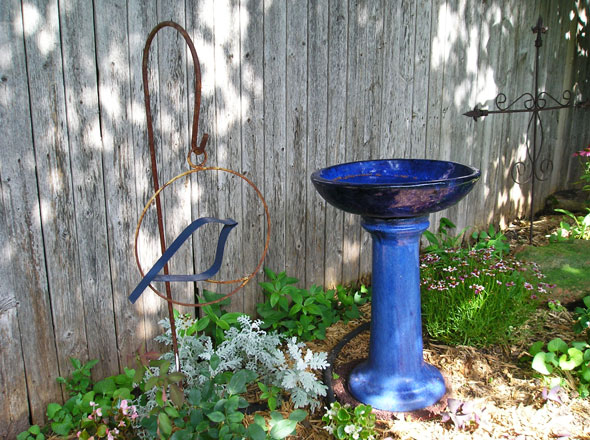 About 3 years ago I bought lovely blue birdbath and instantly fell in love with how it's intense color accented my yard. I move it around, too! Sometimes it's in the flowerbed in various locations. During the cold season I have a heater and move it to the patio so I can offer the feathered population water during a particularly cold winter.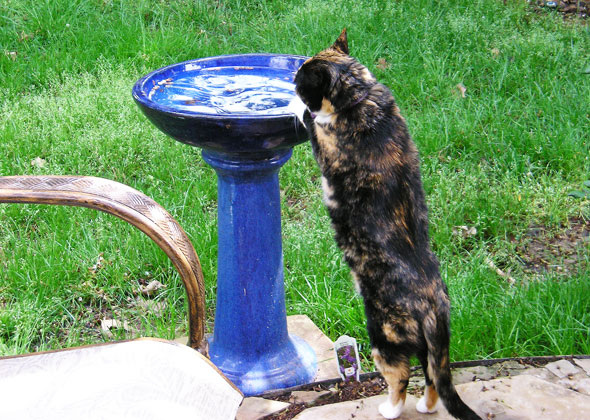 Interestingly, the most frequent visitor was (and still is) my cat, Heidi.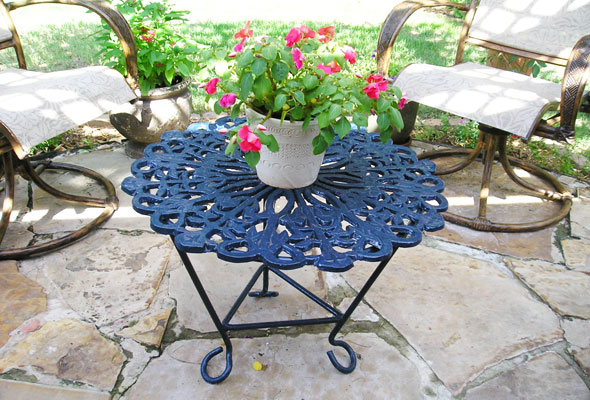 But wait, I digress. Back to the blue birdbath. It's color made me want MORE dark marine blue in my yard. So I painted a neat old wrought iron table I found in an antique garden shop that was painted a bland white and showing it's years. I love the way it provides a contrast to my brown patio chairs.
Then I painted a piece of garden art – a hoop with a bird perched on it, only painting the bird. I have a lot of pink and white flowers so the blue accents compliment the flowers (and weeds) quite nicely.
Maybe your accent color will be purple or yellow or orange! Paint a flower pot or a watering can. Once my husband even painted a long-handled lug wrench and stuck it in the ground.
(Note from Amy: I'm pretty sure you can't go overboard with this one, Mom. Need more cobalt! And Dad's lug wrench is pretty cute… particularly because only a man could turn a car tool into yard art. I'm pretty sure it's his version of a yard art flower.)