Over 36 years ago I bought a wicker clothes hamper right after we got married. It started out being a salmon pink. I'm not a pink person so I painted it yellow and covered the lid with a piece of oil cloth. Oil cloth is a plastic coated material…like the plastic table cloths your grandma (or great-grandma) used to have. Get the picture?
A few years passed and I got over my yellow craze and went with neutral: cream fabric on the lid and cream paint.
While the kids were growing up the hamper was a favorite hiding place when playing hide and go seek on rainy or cold winter days. It's hard to believe any one of them were small enough to get into it!
A few years ago I looked around for a new hamper but quickly realized they don't make them 1) sturdy enough or 2) big enough for a week of laundry, so I've kept my old relic.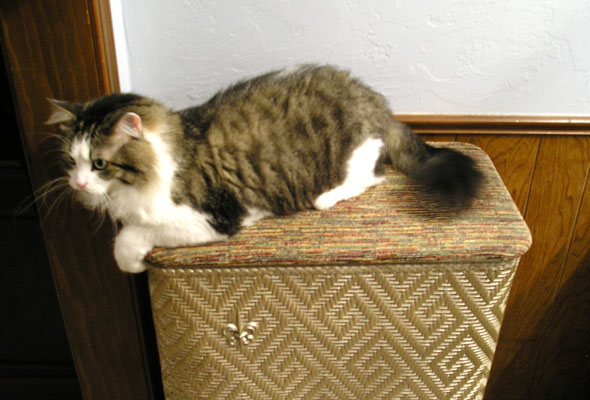 I often put my foot on it while applying lotion to my legs, and the cats sometimes sit on it so they can visit with me while I'm brushing my teeth or applying make-up.
It needed a new look so I went looking for fabric that would hide dirt and the random cat hair, found a multi colored piece. The new color of paint is called "Caramel Latte," Krylon's spray line of brushed metallic spray paint. (You may have noticed in previous posts I am becoming the queen of spray painting stuff.)
I still love my old hamper!
{Note from Amy: I never appreciated this hamper till this very moment. Mom, when you're done with it, can I have it? And I'm just sure I could still fit in it.;) }